King Solomon's Mines
(1950)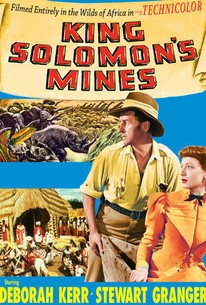 King Solomon's Mines Videos
King Solomon's Mines Photos
Movie Info
This film stars Stewart Granger as fearless-explorer Alan Quartermaine, and Deborah Kerr as the spunky Irish lass who hires him on to locate her husband. Kerr's spouse has disappeared somewhere in Africa while attempting to unearth the long-lost diamond mines of King Solomon.
Critic Reviews for King Solomon's Mines
Audience Reviews for King Solomon's Mines
½
Allan Quatermain takes us on an adventurous expedition through Africa. At times the story could use more excitement, but the cinematography was impressive. I enjoyed the spectacular footage of the African land and wildlife. (First and only viewing - 8/18/2014)
Adam R
★★★1/2 (out of four) Today we have great CGI and amazing stunts, yet there just doesn't seem to be as much thought going into many of the adventure films of the modern era. "King Solomon's Mines" shows how egaging a movie can be when more effort is put into the actual storytelling. Deborah Kerr stars as a woman who has lost contact with her husband. He had traveled to Africa in search of the long lost diamond mines that belonged to King Solomon. She hires Alan Quartermaine (Stewart Granger) to guide her into the deep jungles of the African continent. This was a remake of a 1930's film and then was also remade in the 1980's with Richard Chamberlain in the lead. The 1950 version is exciting and colorful, a real treat for film viewers. [IMG]http://img.photobucket.com/albums/v48/Zeppo1/KingSolomonsMines_zps8be28d49.jpg[/IMG]
Steve Smith
½
It's no Scaramouche, but it will do if you're in need of a Stewart Granger fix.
Ken Stachnik
Super Reviewer
King Solomon's Mines Quotes
There are no approved quotes yet for this movie.
Discussion Forum
Discuss King Solomon's Mines on our Movie forum!