Les Miserables
(1935)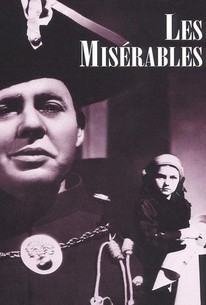 Movie Info
This version of the oft-filmed Victor Hugo novel stars Frederic March as Jean Valjean, whose theft of a loaf of bread necessary for his survival lands him in prison for a decade. Upon his release, Valjean is embittered, but soon regains his humanity and compassion with a bishop's help.
Rating:
NR
Genre:
,
Directed By:
Written By:
In Theaters:
On DVD:
Runtime:
Studio:
20th Century Fox Film Corporation
Critic Reviews for Les Miserables
Audience Reviews for Les Miserables
This was my first exposure to Les Misérables, and I can see why the story is so popular. I'll certainly be watching the 2012 version shortly. The cast, first of all, is excellent. Fredric March gives a great performance in the lead role of Jean Valjean. He kind of represents a sort of compassionate people who understand that giving is more important than taking and that kindness is above the law. Opposite him is Charles Laughton as Inspector Javert, who believes in the law above all else. He's kind of a human manifestation of the law; he even turns himself in after he makes a minor mistake. I've been on the fence with Laughton until now - I loved him as Henry VIII and thought he was hit-and-miss in "Mutiny on the Bounty", but after seeing this I can't deny his gargantuan screen presence. He loses himself in his characters and steals every scene. "Les Misérables" is also technically excellent. Gregg Toland's cinematography is great to look at; there are some excellently framed shots, especially a climactic one where we see Javert following Jean's adopted daughter Cosette (Rochelle Hudson) as she turns into the estate where she lives with her "father". The score by Alfred Newman is also excellent. My only problem with the film is one I'd assume a lot of people have: it's too short. Brevity is fine and the movie is well paced, but coming from such a massive novel, this film feels like it has gaps in places that could've used a bit more explanation. Apart from that, it's an excellent black-and-white drama that's never boring.
Cameron Johnson
This is one of few movies who's quality is determined largely subjectively. One side will assert that the questionable acting, disjointed editing and lack of music in most scenes are signs of an amateurish film and a symptom of cinema's early struggles with determining to what degree it should separate itself from theater. Others will assert that the questionable acting tells us that these people have experienced much grief even before the film starts and throughout the film, suggesting that they are not going to have overtly dramatic reactions to these events. Some will assert that the disjointed editing and lack of music makes the movie unsettling and haunting. All of these aspects together, they assert, drive a point home about how this story is not self-contained, but that this is a global societal justice issue. I am in the camp of the latter, I found this movie emotionally striking and impactful and definitely recommended.
Bheema Da Cashman
½
The reason to watch is Charles Laughton. The rest of the production suffers from a lack of emotion. Is it the result of the era's creaky soundtrack.
John Ballantine
Super Reviewer
Les Miserables Quotes
There are no approved quotes yet for this movie.