The Littlest Angel
(1969)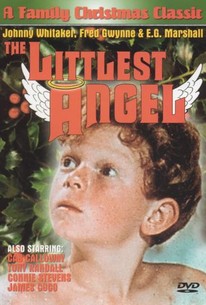 AUDIENCE SCORE
Critic Consensus: No consensus yet.
Movie Info
In this made-for-television musical fable, a young boy yearns to become an angel after he dies in a fall.
Rating:
NR
Genre:
, , , , ,
Directed By:
Written By:
In Theaters:
On DVD:
Runtime:
Studio:
Embassy Home Entertainment
Critic Reviews for The Littlest Angel
There are no critic reviews yet for The Littlest Angel. Keep checking Rotten Tomatoes for updates!
Audience Reviews for The Littlest Angel
One of the cheesiest things I've ever seen. Ridiculous.
Sarah Prisbylla
Super Reviewer
This is not more than a filmed television play, with some really horrible and cheap special effects, forgettable songs. It is so boring and a sappy family film. Unbearable.
James Higgins
½
[size=1](Teeth pain. Mild ear infection. Ouch!) [size=2]Time for a random movie selection!![/size][/size] [img]http://cover6.cduniverse.com/MuzeVideoArt/21/238021.jpg[/img] [img]http://g-images.amazon.com/images/G/01/ciu/e2/34/d67392c008a009e688bf6010._AA240_.L.jpg[/img] [img]http://images.rottentomatoes.com/images/movie/coverv/82/114782.jpg[/img] Well those are the breaks. Go random and you could end up with something like this Christmas TV movie cheapie in August. :D To be honest, I didn't know this was a holiday movie when I stuck it in the stack of flicks I was going to randomly pick from. I bought this for a dollar since it also had another [i]even more painful looking[/i] movie on the reverse, so...50 cents each! Everyone's jealous, I can tell!! :p I'd never seen these, but occationally you can find some gems this way. The cast includes Tony Randall and James Coco who are not even the least bit funny here and Fred Gwyne who is actually a kind of likable big oaf (not much of a stretch there). Gwyne acts as young Johnny Whittaker's guardian angel (or some such nonsense) and he's kind of a dud since Johnny falls from a very high cliff while tending sheep. Gee, thanks Herman! Such a shame, since Johnny will never be able to return home to the sound stage he lives on with his loving mom and his possibly gay dad. Not very good parents anyway, making poor Johnny tend sheep along what looks like The Grand Freakin Canyon! The bulk of this takes place in "heaven" (the place the radiator lady sings about in [i]Eraserhead[/i]). Apparently heaven is behind the times in technology since all the angels are begin swung around on considerably low-tech wires and the soft heavenly clouds are a completely lame and unappealing pinkish cotton candy color. Heaven needs a new decorator! And speaking of color, I noticed heaven seemed a bit on the segregated side! I was thinking "where are all the black angels?" then I looked closer and far in the back was a brother angel. I guess "the colored" angels have to sit in the back of heaven. :D I have to say this is all begging for a [i]Mystery Science Theater 3000[/i] treatment, with all due respect to those who remember it fondly. It isn't all that bad overall but the production values are godawful. At Christmas I could probably enjoy this okay even though I don't really believe in angels, cardboard wings, cotten candy clouds, etc. I actually much prefer the similar stop motion film [i]The Little Drummer Boy[/i]. At any rate, many members of the cast now know if this was all bullsh[i]i[/i]t or not. I miss Gwyne and Randall so I hope for their sakes it is at least better than this cheesy production. Heaven is decidely small and there aren't any other kids or even a puppy for Johnny to play with...just Fred Gwyne. :( Plus, Johnny has to give away all his favorite possessions to the baby Jesus, who must have a closet full of stuff already!
James Perry