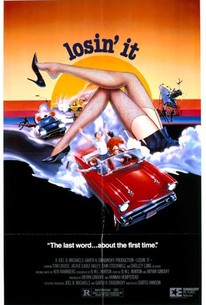 Losin' It
1982, Comedy, 1h 40m
11 Reviews
2,500+ Ratings
Where to watch
Free
Rent
Rent
Rate And Review
Movie Info
A teenager (Tom Cruise) and his buddies drive to '60s Tijuana with a woman (Shelley Long) looking for a quick divorce.
Audience Reviews for Losin' It
This teen drama/comedy/adventure is fun for the most part and it has some good actors too, but it could be better, funnier mostly, but also it needs to be a bit more intense maybe? A different director maybe? I'm not sure, but it's pretty good the way it is.

Insipid junk notable only for early appearances of Tom Cruise and Shelley Long, that's NOT enough to sit through this.

When you combine Tom Cruise and the director of L.A. Confidential, you probably would expect somethign loftier than this tale of four guys in 1965 who take a road trip to Tijuana to lose their virginity. A sex comedy from 1982, it also has the oddity of having Shelley Long as Cruise's love interest. What elevates this over the typical 80's teen sex comedy is a decent script, believable characters, and solid performances from the four leads Cruise, Jackie Earle Haley, John Stockwell, and John P. Navin Jr. There's is also a great collection of 60's music to give it an American Graffiti feel. It has all the raunch you'd expect from a movie like this, but to its credit, it offers more than just that. I don't know if it's a movie that Cruise would admit to today, but it showcases him when he was just a simple actor instaed of Scientology whack job.
See Details