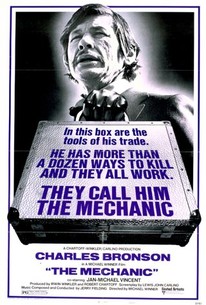 The Mechanic
1972, Action/Mystery & thriller, 1h 40m
10 Reviews
2,500+ Ratings
Where to watch
Rent/buy
Rent/buy
Rate And Review
Movie Info
Arthur Bishop (Charles Bronson) is a veteran hit man who, owing to his penchant for making his targets' deaths seem like accidents, thinks himself an artist. It's made him very rich, but as he hits middle age, he's so depressed and lonely that he takes on one of his victim's sons, Steve McKenna (Jan-Michael Vincent), as his apprentice. Arthur puts him through a rigorous training period and brings him on several hits. As Steven improves, Arthur worries that he'll discover who killed his father.
Audience Reviews for The Mechanic
Michael Winner, the director, with not much of a story to go with here (it's a very short story in truth) understandably tries to pad it out with the minutiae of a professional assassin plotting out a job, which really adds nada to the proceedings, and so it's slow going. Which makes this a film mostly for Charles Bronson or Jan-Michael Vincent fans. Jill Ireland, though pretty, is wasted. And Keenan Wynn, a supporting player, is left with the poor job of trying to carry the project.

Way overrated than it deserved. The Mechanic is a dull thriller about an assassin taking a young prodigy under his wing to exact revenge on the people that betrayed him. It's got the silent 15 minutes opening, but that's all this film has to offer. It's not as good as many people think it is. (If only the pace can be increased...) And the ending was laughable.

The Mechanic is one of the best action films of the 1970's. Starring Charles Bronson as meticulous hit-man Arthur Bishop, The Mechanic is a brilliant, near flawless action picture that also is a portrait into the mind of a killer. A well crafted film that not only has a lot of action, the film shows the twisted, savage side of a killer. Charles Bronson is a cold hearted killer, and he is superb in his role. What makes Charles Bronson perfect for the part of Arthur Bishop is his chiseled tough guy looks, his voice and on screen demeanor, it's really hard to picture someone else in the role. Bronson was born to play such a role. The Mechanic is a mix of action, thriller, suspense and somewhat drama. But the film mostly plays out like an action thriller. The film is a near flawless film that is one of Charles Bronson's finest films. The Mechanic is a classic of the genre. This is a fine action film that has yet to to be topped. What separates this film from most action films is that The Mechanic is not only an action, but a character study into the mind of a killer, we get an idea how a professional killer acts and and carries out his deadly tasks. Not only that, but The Mechanic gives the audience one of the most memorable of all Charles Bronson's films. A well made action film, and one of the defining films of the genre.

Flawless action/thriller and character study of contract killer. Charles Bronson really is the ultimate bad ass, and plays the character of a no nonsense motherfucker perfectly. No dialouge throughout the first 15 minutes really lets the viewer get into this guys meticulous, detached and remorseless mindframe perfectly and the film just doesn't miss a beat after that. Pretty much perfect in every way.
See Details