Metamorphosis (Regenerator)
(1990)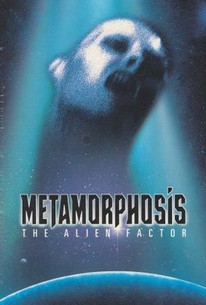 AUDIENCE SCORE
Critic Consensus: No consensus yet.
Metamorphosis (Regenerator) Videos
Metamorphosis (Regenerator) Photos
Movie Info
While experimenting with a cure for immortality, a mad scientist decides to become his own test subject.
Critic Reviews for Metamorphosis (Regenerator)
There are no critic reviews yet for Metamorphosis (Regenerator). Keep checking Rotten Tomatoes for updates!
Audience Reviews for Metamorphosis (Regenerator)
½
Shameless rip-off of The Fly with no emotion or thrill- but I did like the reptilian twist. The effects are pretty cheesy, and sadly ever on screen. The characters are mostly generic, often bland at times. The plot is weird, dumb, but interesting enough.
Wes Shad
Dr. Peter Houseman (Gene LeBrock) is a rock star genetic professor at Virgina University. When he's not ballin' on the court, he's blowing minds and dropping panties in his classroom lectures. Dr. Houseman is working on a serum that allows the body to constantly regenerate cells, thus allowing humans to become immortal. An assortment of old and crippled university professors don't care for the popular Houseman and cut off funding for his project due to lack of results, though the main person behind it (Catherine Baranov) gets naked and screws him after only a couple of days of knowing each other. This causes Peter to use himself as the guinea pig for his serum. Surely to no one's surprise, there are side effects and Houseman begins to metamorphosis's backwards into something that is embedded into our genetic DNA that has been repressed for "millions of years". Overall, Metamorphosis isn't a terrible movie, just not a well made one. For a whole hour and ten minutes, nothing happens, save for what I've already gone over (only 1 damn kill in that entire block of film). All the good stuff happens in the last 20 minutes when Houseman stops acting like like a guy on roid rage and finally turns into a goody dinosaur and starts killing people one after one. The climax is one of the most unintentionally funniest moments in film history (I'll just say WORST DINOSAUR COSTUME EVER). To top things off, the actually ending of the movie had me rolling around, laughing my head off. For more hilarity, pay attention to the computer terminology such as "cromosonic anomaly". No wonder Peter's experiment failed. Your computer can't spell! This is worthy of a view by any avid horror fan, followed by a trip to your local bar. This gets 3 very generous stars for how much it made me laugh in the last 20 minutes, despite the horrible 70 minutes that preceded it.
Jason Duron
½
Stupid plot, stupid movie, not in the least bit compelling or convincing. The acting isn't too bad but with a movie this lame, it doesn't matter.
James Higgins
Metamorphosis (Regenerator) Quotes
There are no approved quotes yet for this movie.
Discussion Forum
Discuss Metamorphosis (Regenerator) on our Movie forum!