Mighty Joe Young
(1949)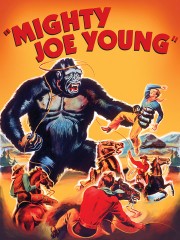 Mighty Joe Young Trailers & Photos
Movie Info
Hoping to make the magic of King Kong happen again, the production team of Merian C. Cooper and Ernest B. Schoedsack came up with the 1949 special-effects smorgasbord Mighty Joe Young. Robert Armstrong reprises his Kong portrayal of Carl Denham as hot-shot showbiz entrepreneur Max O'Hara. While in Africa looking for authentic decorations for his new night club, O'Hara makes the acquaintance of Mr. Joseph Young, a ten-foot-tall ape. Unlike King Kong, Joe Young has a heart of gold, thanks in great part to his owner, a lovely lass named Jill Young (Terry Moore). Against her better judgment, Jill allows O'Hara to bring Joe back to the States as a nightclub attraction. Joe proves to be a smash as he participates in Jill's musical act (he lifts her grand piano while she plays "Beautiful Dreamer") and performs a tug-of-war routine with an imposing lineup of professional wrestlers (including Tor Johnson, Man Mountain Dean and Primo Carnera). But when the patrons go home each night, Joe is unhappily relegated to his cage. When a group of obnoxious drunks begin teasing Joe, the disgruntled ape breaks loose and goes on a rampage. Slated to be put to death, Joe redeems himself by rescuing a group of screaming children from an orphanage fire. Featured in the cast are Ben Johnson as the nominal romantic lead, Frank McHugh as Robert Armstrong's assistant, and an uncredited Irene Ryan as a cocktail-lounge patron.
more
Cast
News & Interviews for Mighty Joe Young
Critic Reviews for Mighty Joe Young
Audience Reviews for Mighty Joe Young
½
The original film of Mighty Joe Young, dating back to 1949.

There are obvious differences when comparing to the later version, CGI, effects etc, but the general plot of the film remains the same. This version's Joe, does look a little 'Reet Petit', but I still feel that was good for the year it was made.

An interesting watch, if only to see the evolution of an animated creature.
This was the best movie ever growing up, I must have watched it a 100 times on WPIX and WOR. If it was on I was watching it and to see it on DVD brought back enjoyable memories. A fantastic movie when you consider it was made in 1949 the special effects are incredible. About a young girl who is discovered with a gorilla, a very large gorilla and is brought to America for shows. Not as big or crazy as King Kong, but more enjoyable. The only disappointment in the film was near the end when the filmed turned an awful brown color, my guess original film was damaged, and that's a shame. I'm giving this one 5 stars how could I give it less. The commentary film was an added bonus.
Bruce Bruce
Super Reviewer
Mighty Joe Young Quotes
Discussion Forum
Discuss Mighty Joe Young on our Movie forum!
News & Features