Mischief
(1985)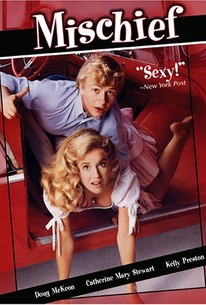 Movie Info
This entertaining teen comedy is set in the effervescent 1950s and involves the friendship of the introverted, clumsy Jonathan (Doug McKeon) and the nonconformist, extroverted Gene (Chris Nash). Jonathan's main objective is to win over the sexy Marilyn (Kelly Preston), in spite of his shyness, while Gene has his own love-life to maintain with his girlfriend Bunny (Catherine Mary Stewart) -- as well as counseling Jonathan on how to attract women. Gene also has to defend himself against Kenny (D.W. Brown) the class bully while trying to work out a borderline relationship with his widowed father, who has zero tolerance for his often wild escapades. As Jonathan and Gene handle life's challenges, the 1950s emerges as a potent presence on screen in the form of background setting, including movies and music, as well as dress and customs that were popular in that distinctive era.
Rating:
R (adult situations)
Genre:
,
Directed By:
Written By:
In Theaters:
On DVD:
Runtime:
Studio:
Anchor Bay Entertainment
Critic Reviews for Mischief
Audience Reviews for Mischief
I really liked this movie, the plot is a simple romantic comedy, but it has all the charm and rebelliousness of a 50s teen flick combined with the fun and sexiness of an 80s teen film. Plus, it has a more realistic look at teen romance than other movies of the time, I think. Overall, it's a good movie, and I'd recommend it.
Don't overestimate the potential entertainment value of Kelly Preston's two whole seconds of full frontal; can you spell merkin? Just the same, this generally-overlooked, nostalgic, cutesy gander at 1950s teenage romance, sex and bad boys IS worth viewing - even though every single cliche scene and phrase you could ever possibly imagine or remember on those topics has been cobbled together to become this script. The James Dean / Natalie Wood 'chicken' car dare from "Rebel Without A Cause" is shamelessly ripped off. Still, the film basically works. Mostly because director Damski had the insight to pour his budget into incredibly realistic & detailed set pieces and props, quality camera-work, sharp color - and a no-corners-cut soundtrack. There's likely not another film that looks more like days and nights at 1956 MidwestBurg High School that this one; in that sense it even gives "American Graffiti" a real run for the money. Everything from malted glasses to costumes to cars (even a moving van) are, visually, amazingly authentic - and well filmed. The 1950ish town square seen actually still exists in the condition filmed here, less a few props, at the center of Nelsonville, Ohio. You'll wish you could pull right up to a speaker and order fries at Jerry's pink-'n-sky-blue-neon drive-in. With remaining funds, Damski employed a quintet of then-budding actors you've-sort-of-heard-of, all of whom do really good work, especially considering the lines they've been dealt. At fin, Jami Gertz has never looked lovelier. The kids (and you) get to groove to Fats Domino, Elvis, Buddy Holly, The Platters, Little Richard, and other top-notchers, including a few true jewels you might have forgotten. RECOMMENDATION: If you liked "American Graffiti," "Grease," "Happy Days" et. al., it's a pretty safe wager you'll be-bop to this one too.
TonyPolito Polito
This is a hilarious movie! Filled with lots of laughter, from beginning to end. Loved it!!
Mischief Quotes
There are no approved quotes yet for this movie.
Discussion Forum
Discuss Mischief on our Movie forum!