Moby Dick
(1956)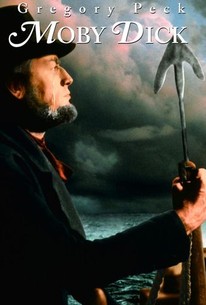 TOMATOMETER
AUDIENCE SCORE
Critic Consensus: It may favor spectacle in place of the deeper themes in Herman Melville's novel, but John Huston's Moby Dick still makes for a grand movie adventure.
Movie Info
Previous film versions of Moby Dick insisted upon including such imbecilities as romantic subplots and happy endings. John Huston's 1956 Moby Dick remains admirably faithful to its source. "Call me Ishmael" declares itinerant whaler Richard Basehart as the opening credits fade. Though slightly intimidated by the sermon delivered by Father Mapple (Orson Welles in a brilliant one-take cameo), who warns that those who challenge the sea are in danger of losing their souls, Ishmael nonetheless signs on to the Pequod, a whaling ship captained by the brooding, one-legged Ahab (Gregory Peck). For lo these many years, Ahab has been engaged in an obsessive pursuit of Moby Dick, the great white whale to whom he lost his leg. Ahab's dementia spreads throughout the crew members, who maniacally join their captain in his final, fatal attack upon the elusive, enigmatic Moby Dick. Screenwriter Ray Bradbury masterfully captures the allegorical elements in the Herman Melville original without sacrificing any of the film's entertainment value (Bradbury suffered his own "great white whale" in the form of director Huston, who sadistically ran roughshod over the sensitive author throughout the film).Cinematographer Oswald Morris' washed-out color scheme brilliantly underlines the foredoomed bleakness of the story. Moby Dick's one major shortcoming is its obviously artificial whale-but try telling a real whale to stay within camera range and hit its marks. ~ Hal Erickson, Rovi
News & Interviews for Moby Dick
Critic Reviews for Moby Dick
Audience Reviews for Moby Dick
John Huston's flair for the manly adventure story gladly pounds it's own drum throughout this work that showcases men drinking, working, fighting, and in mortal fear together - it's what this film is all about. The women can only watch dockside and wonder if their loves will return. It's all portrayed very heroically, like Viking myth. And then there's the whale. The best of the big fish stories by my reckoning, symbolism aside, and even though Peck might overdo the "mad captain" bit sometimes.
Kevin M. Williams
Super Reviewer
"A hwite hwale, as big as a mountain of hwite snow." Gregory Peck, after Moby Dick was made, admitted that he was embarrassed by his performance: and rightfully so! Peck has established himself as a paternal figure, and then all of a sudden he needs to play a cold hearted, revenge crazed whaling ship captain. I'm not at all saying that he's bad. Peck overacts to the point of embodying the character of Captain Ahab and conquers every scene he's in. Peck gives one of the definite Hollywood performances of all time. A major factor in me seeing this was because of Orson Welles, but he disappointingly had only about two to three minutes of actual screen time. Welles is near the beginning, and he sports a preposterously ragged beard and plays a priest who gives a sermon about Jonah and the Whale before the whalers go off to sea. His opening monologue was stupendous, but after that he wasn't there, which made me sad :(. This is the sixth film I've seen him in, others being Citizen Kane, Touch of Evil, The Third Man, The Stranger, and A Man for All Seasons, and I wanted to make a list of my five favorite, but both his performances in A Man for All Seasons and Moby Dick are extremely short, so I'll have to resume my search for other Welles films. Famous science-fiction author Ray Bradbury (Martian Chronicles/ Fahrenheit 451) wrote the screenplay with John Huston, and like many cinematic adaptations of classic novels, namely The Brothers Karamazov starring Yul Breynner, there's very quick pacing and they skimmed over details. I haven't read the book, but it seemed like they just took out major moments in the plot and used them in the script. What surprised me the most was how well this strategy worked. I was never bored, I never felt like they were insulting my intelligence, and though the dialogue consisted of ye olde english: both the characters and writing conveyed their points well. This is the fourth John Huston film I've seen, the others being The Maltese Falcon, The Treasure of the Sierra Madre, and The African Queen. I see some trends in his directorial style, but it's very difficult for me to put my finger on exactly what it is. I guess it's fair to say that he masterfully balances drama, entertainment, and intelligence, as well as creates great atmosphere. What stands out the most in this one is the stale visuals and a badass giant animatronic whale. John Huston's Moby Dick starts out introducing a main character, as the novel does, with the famous line "Call me Ishmael", and then doesn't touch on him any further and begins a tale about a whaling ship. I found that to be a bad idea on Huston's part because from the beginning you're expecting to follow Ishmael on his journey, but then you're spontaneously introduced to many different characters with much more depth and then thrown into the madness of Captain Ahab. Other than the storytelling flaw early in the film, I found little wrong with anything else. 98/100
Simeon Deutsch
Super Reviewer
Ken Stachnik
Super Reviewer
Moby Dick Quotes
| | |
| --- | --- |
| Capt. Ahab: | I'll follow him around the Horn, and around the Norway maelstrom, and around perdition's flames before I give him up. |
| | |
| --- | --- |
| Capt. Ahab: | From hell's heart I stab at thee; for hate's sake I spit my last breath at thee. Ye damned whale. |
| | |
| --- | --- |
| Ishmael: | [voiceover] Call me Ishmael. |
| Ishmael: | Call me Ishmael. |
| | |
| --- | --- |
| Ishmael: | [in voice-over narration] He did not feel the wind, or smell the salt air. He only stood, staring at the horizon, with the marks of some inner crucifixion and woe deep in his face. |
| Ishmael: | He did not feel the wind, or smell the salt air. He only stood, staring at the horizon, with the marks of some inner crucifixion and woe deep in his face. |