Native Son
(1986)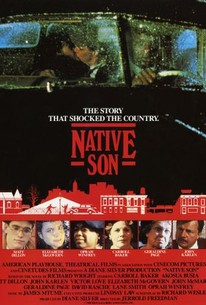 Movie Info
Previously filmed in Argentina in 1951, black author Richard Wright's powerful race-conscious novel Native Son was remade in this barely released 1986 version. The story involves Bigger Thomas (Victor Love), an angry Depression-era Chicago black who hopes to elevate himself through his chauffeur's job with a prosperous white Gold Coast family. The family's daughter (Elizabeth McGovern) takes advantage of Bigger's servile status by ordering him to drive her to a rendezvous with her communist-activist lover (Matt Dillon). Their "parlor liberal" attitude both pleases and confuses Bigger, as do the girl's apparent sexual advances toward him. One evening, Bigger drives the girl home after she's gotten herself drunk. She flirts harmlessly with him in her bedroom; when her blind mother (Carroll Baker) stumbles onto the scene, the terrified Bigger, certain that he'll be accused of rape, tries to muffle the girl so she can't talk. He accidentally kills her, whereupon the panicky Bigger hides the body and tries to pin the girl's "kidnapping" on her lover. Tragedy piles upon tragedy before Bigger's climactic murder trial and execution; throughout, we are given the impression that this sorry state of affairs would never have taken place without the black-white tensions and divisiveness that existed in 1930s, and which still exist to this day. During the trial scene, TV talk host Oprah Winfrey makes a heavily-made-up cameo appearance as Bigger's mother. The whole scene has the earmarks of an "Oscar clip," but Oprah's excessive histrionics pale in comparison to her brilliant, well-modulated performance in the earlier The Color Purple. The 1986 version of Native Son was co-produced by PBS' American Playhouse.
Critic Reviews for Native Son
Audience Reviews for Native Son
Okay, the two worst parts of this movie -- the fact that the cut down Books 2 and 3 into 20 minutes. Book 3 had the most interesting character development, insight, and interactions, but they showed NONE OF IT. Because of this, the pacing was awful and it made this film seem like a waste of time. The second worst part was the MUSIC. It sounded like leftovers from Sesame Street. It didn't fit at all, and made scenes unintentionally humorous.
Allegra F
loved the storyline but didn't liked how it turned out....i felt really sorry for bigger thomas, actually felt sorry for the whole family....
Sweet Poetic Roni
Native Son Quotes
There are no approved quotes yet for this movie.
Discussion Forum
Discuss Native Son on our Movie forum!