Nicholas Nickleby
(1947)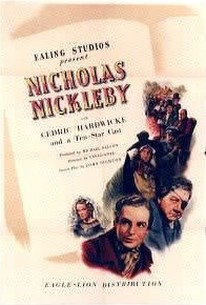 AUDIENCE SCORE
Critic Consensus: No consensus yet.
Movie Info
Nineteenth century England. When Nicholas Nickleby's father dies and leaves his family destitute, his uncle, the greedy moneylender, Ralph Nickleby, finds Nicholas a job teaching in a repulsive school in Yorkshire. Nicholas flees the school taking with him one of the persecuted boys, Smike, and they join a troop of actors. Nicholas then has to protect Smike, while trying to stop his Uncle Ralph taking advantage of his sister Kate, and later his sweetheart, Madeline Bray, whose father is in debtors prison.
Critic Reviews for Nicholas Nickleby
There are no critic reviews yet for Nicholas Nickleby. Keep checking Rotten Tomatoes for updates!
Audience Reviews for Nicholas Nickleby
A solid, though not exceptional, Dickens adaptation. Tips a bit too far into the melodramatic at times. Character actor Bernard Miles who participated in some of the most excessive melodrama also holds the proceedings together in his sly and engaging supporting role around which the stars wheel.
Michael Harbour
½
THE LIFE AND ADVENTURES OF NICHOLAS NICKLEBY is based on Charles Dickens' third novel which was originally published in serial form, and much explains the episodic nature of this film. Although I don't think it's as great as the other two Dickens' films released around the same time (GREAT EXPECTATIONS and OLIVER TWIST both directed by David Lean) - NICHOLAS NICKLEBY at least holds it own with atmospheric sets and great costumes. It's also one of the more dreariest Dickens story you'll see. The film opens as crotchety businessman, Ralph Nickleby (Cedric Hardwicke) receives a letter telling him that his brother has passed away and that his brother's widow and two grown children have come to London penniless. Ralph is more dismayed by the prospect of now having to look out for them than the actual news of his brother's death. But Ralph Nickleby has strong connections in the business community and quickly finds a home for them to live in - albeit not in the greatest part of town... and also secures a job for his nephew, Nicholas Nickleby (Derek Bond) and beautiful niece, Kate (Sally Ann Howes) so they are able to better support their scatterbrained mother (Mary Merrall) on their own. Nicholas, despite being the title character here, isn't really the strongest character. In fact I feel he is rather bland (compared to his more despicable Uncle Ralph) and serves more as a foil for the more interesting secondary characters to interact with. The job that Uncle Ralph secures for Nicholas is as a teacher at Wackford Squeers' Academy for Boys. It's an "academy" in the loosest possible definition of the term, as Nicholas is soon to find. As run by the Squeers family, it is more a prison for the unwanted or illegitimate children of society - and marks the first half and most interesting part of the film. I've always like the names Dicken's gives to his characters. There is a whole slew of them here...from Wackford Squeers, Mrs. Knag, to Smike and Lord Verisopht and The Cherrybyl's... 7.5 / 10
bernard anselmo
Nicholas Nickleby Quotes
There are no approved quotes yet for this movie.
Discussion Forum
Discuss Nicholas Nickleby on our Movie forum!