Night Patrol
(1984)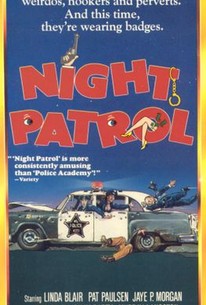 AUDIENCE SCORE
Critic Consensus: No consensus yet.
Movie Info
Essentially a knock-off of the "Police Academy" series, this slapstick comedy tells the idiotic tale that contains humor to offend just about everyone as it tells the story of a milque-toast cop who moonlights at night as a paper-bag wearing stand-up comic who unfortunately gets mistaken for a paper-bag wearing bank robber.
Critic Reviews for Night Patrol
There are no critic reviews yet for Night Patrol. Keep checking Rotten Tomatoes for updates!
Audience Reviews for Night Patrol
½
An outrageous, fun, and very funny spoof of cop movies. Some may say it's like Police Academy, but I'd say it's more like Police Academy meets Airplane!, as it combines the styles. Other than that, it's got a good story and fun characters, and I really enjoyed it for the most part. There are a couple of unfunny jokes here and there, though. Overall, a pretty good movie.
½
Before the Naked Gun films (but after the Police Squad TV show, incidentally), the slapstick film, Night Patrol attempted to capitalize on the humor of the police force, with dim-witted cop Melvin (Murray Langston) whose a bit of a quack on the streets, but moonlights as an increasingly popular stand up comic known as the "Unknown Comic" (equipped with a paper bag with holes cut out for his head). While advancing his stand-up career to great heights, Melvin has bigger issues in his cop life as he attempts to foil a serial robber posing as the Unknown Comic. Lots of oddball gags abound in this over-the-top slapstick comedy, which unfortunately, are so odd at times that it left me more puzzled rather than in a giggly state. One moment that comes to mind is a cameo appearance by Pat Morita as a homeless rape victim whose voice is dubbed by what sounds like a young, buxom hot chick....yeah, sounds good on paper, but not so much in presentation. Aside from Morita and Langston, there are some wacky appearances by the likes of Linda Blair, Jack Riley (whom I'll always remember as the dad from Rugrats), and the late Billy Barty. Some upsides to this unfunny film would be some great titty shots of sexy blonde Lori Sutton and retro pornstar Kitten Natividad (HUGE TITTIES!). We're also graced with very brief titty shots from Linda Blair which took forever to get to and were much too brief unfortunately. There's also a bit involving Andrew Dice Clay as a struggling comic that was actually pretty amsuing, until they beat that bit like a dead horse. Overall, an unamusing attempt at comedy by director Jackie Kong, who also wrote alongside Langston. Kong had better luck serving up campy 80's horror like The Being or Blood Diner rather than this odd film.
Jason Duron
Outrageously bad, a disgrace. It is hard to believe there are two actors in this that have actually been nominated for Oscars. (Linda Blair and Pat Morita) A total unfunny and insulting mess. This certainly must rank as one of the worst movies ever made.
James Higgins
Night Patrol Quotes
There are no approved quotes yet for this movie.
Discussion Forum
Discuss Night Patrol on our Movie forum!