From a Whisper to a Scream
(1987)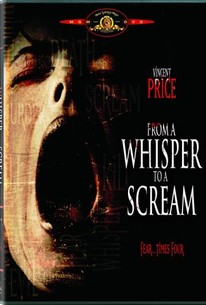 AUDIENCE SCORE
Critic Consensus: No consensus yet.
From a Whisper to a Scream Videos
From a Whisper to a Scream Photos
Movie Info
This horror anthology is hosted by Vincent Price and features a quartet of chilling stories, all of which took place in a single town that seems to inspire people to do horrendous things to each other. The stories contain scenes of graphic violence and considerable gore. The film is also known as From a Whisper to a Scream.
Rating:
R
Genre:
Directed By:
Written By:
In Theaters:
On DVD:
Runtime:
Studio:
Critic Reviews for From a Whisper to a Scream
There are no critic reviews yet for From a Whisper to a Scream. Keep checking Rotten Tomatoes for updates!
Audience Reviews for From a Whisper to a Scream
An okay-ish 80s anthology horror flick. Vincent Prince and lots of gore. Check it out, if that's your thing.
Anatoly Shashkin
Some horror fanatics might know "From a Whisper to a Scream" by its other title, "The Offspring." Director Jeff Burr and the screenwriters take the portmanteau formula and inject their own brand of bloodletting and revolting deeds of dementia into it. Their approach takes the art form to a whole other level of graphicness and disgust that couldn't be explored in previous decades. Beneath the small-town exterior of Oldfield, Tennessee lies a history of shocking violence and terrifying phenomena, as recounted by local historian Julian White (Vincent Price). In the '80s, an office worker (Clu Gulager) nurses a deadly crush. In the '50s, a witch doctor (Harry Caesar) holds the secret to unending life. In the '30s, fighting breaks out in a traveling carnival over forbidden love. Finally, in the 1860s, Union soldiers discover a group of orphaned children with a deadly agenda. When you see Vincent Price's name attached to "From a Whisper to a Scream," your mind will drift to the classic films he made in the 1960s and 1970s, which were tame by today's horror standards. I assure you that's not the case here. The four tales presented come stuffed full of the gore and gruesomeness we all expect from 1980s genre movies. "From a Whisper to a Scream" is rated R for violence and gore, adult situations, nudity, profanity, alcohol, drugs, smoking, and frightening and intense sequences. Necrophilia is insinuated which spawns a deformed monster baby in one of the most disturbing segments of the film. No nudity is shown in relation to sex. It was still unnecessary and added nothing to the story or plot. "From a Whisper to a Scream" fits perfectly somewhere between other portmanteau films made in the 1980s like "Tales from the Darkside" and "Creepshow" and 1960s classics such as "Tales from the Crypt" and "The Vault of Horror." Vincent Price serving as the teller of the sordid stories lends an air of nostalgia which leads the viewer to expect a bit more quality to what might be mistakenly thought of as just another attempt at an anthology collection. However, you'll find yourself glad you made the trip to Oldfield as the ending credits roll. www.ersink.com
Eric Shirey
From a Whisper to a Scream (Jeff Burr, 1987) I've said a great deal about American attempts to make horror anthology films since Creepshow, and it feels silly to reiterate it all here. From a Whisper to a Scream is another of those American anthology films where the framing device ends up working better than any of the stories therein, but unlike many movies of that stripe, the shorts in this one range from competent to pretty durned good, and the cast they dug up for this thing is pretty spectacular, with Vincent Price as the framing device's narrator and a solid B-movie cast with names like Clu Galager, Susan Tyrrell, Larry Kiser, and Lawrence Tierney delivering the fun. I wish Burr had pushed a little harder to try and send this one into the realms of Creepshow (though in hindsight-Burr's later output would include Pumpkinhead II and the fourth and fifth Puppet Master movies-he simply might not have had it in him), but what we got is watchable enough if you're looking for a handful of short, sharp shocks. ***
Robert Beveridge
From a Whisper to a Scream Quotes
There are no approved quotes yet for this movie.
Discussion Forum
Discuss From a Whisper to a Scream on our Movie forum!