Parasite
(1982)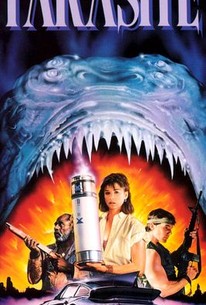 Movie Info
In this gory sci-fi outing, shot and originally released in 3-D, Dr. Paul Dean (Robert Glaudini) is a scientist living in the near future, after America has fallen under the control of a repressive paramilitary regime. Dean's research causes him to absorb an especially voracious parasitic worm, which feeds inside the human stomach until it becomes strong enough to burst out in search of a new host. In time, Dean is able to extract the creature from his body, but soon it escapes from captivity, and Dean and his friend Patricia (Demi Moore) must find a way to stop it as they find themselves on the run from brutal government agent Merchant (James Davidson) and a gang of thugs led by Ricus (Luca Bercovici). Parasite was Demi Moore's second film, shot while she was still a regular on the daytime serial General Hospital.
Critic Reviews for Parasite
Audience Reviews for Parasite
This early Charles Band horror sci-fi kinda reminded me of early John Carpenter films, it does have a charm about it that shines even today. Set in the far future of 1992 where the world has met an atomic disaster and is run by one corporation called 'The Merchants'. They seek to control the riff raff with a deadly parasite which they force one doctor to create, who then goes on the run with it to try and kill it. Same factory line plot about the future and it does look pretty similar to other films with the same idea but the cast  sets it apart. The main role is played by Robert Glaudini who isn't your usual good looking type, he has a face of curiosity, he looks a bit odd, a bit regular and this helps you run with the nonsense. He is helped by Demi Moore in her second screen role before all the money and glitz, which provides a more grounded performance from her. Its all still cheesy as hell by today's standards and it looks trashy of course (apart from the black Lamborghini) but back in the day I reckon it looked quite good...I'm guessing. Another feather in Mr Bands cap is the fact he worked with Stan Winston in this film. Yep the mighty Winston created the parasite in question and probably had a hand in the gory effects also. Naturally this helps the film greatly as the effects and makeup are quite good, not outstanding but solid showing promise. Actually quite a bloody film with some nice gore, plot is old and you can see the 'Alien' rip (which would of influenced allot at the time) a mile off. Overall its not bad and certainly a high point in Mr Band's rollercoaster career which seemed to move into killer doll territory as we all know...for some reason.
Phil Hubbs
Super Reviewer
½
"Parasite" was part of the 3-D revival of the early '80's, and during that period you could sell a cheap knock-off with those cheezy paper red and blue glasses. You didn't need any special special effects or an original plot, and nothing proves that case more than this unimaginative "Alien" rip-off. Director Charles Band was something of the Roger Corman of his era, churning out cheap and campy movies like this seemingly once a year. This dud is just as boring, poorly made and derivative as his other flicks. Thanks to the menial budget, the gore is kept to a minimum and the creature itself is only seen in glimpses. The movie supposedly takes place in the future, but only a few very vague clues like a sign showing gas for $40 a gallon and a silly looking futuristic car can make a case for the setting. The film's one claim to fame is that it is Demi Moore's big screen debut, and while she is attractive, you can't see her as the rising star that she would become a few short years later. She's just another pretty face, which is certainly more than you can say for her co-star Robert Glaudini. There are plants in this film that have more charisma than he does as he sleepwalks through this sub-par sci-fi horror film. The 3-D may have been special at the time, but now all that remains are ridiculous scenes of things being thrust at the screen for no apparent reason. "Parasite" is one film that hasn't aged well at all. It's pieced together from the best parts of better movies, leaving you no reason to see this mess.
Timothy Sanders
½
After viewing the 3D shitstorm that called itself "Metalstorm: The Destruction of Jared-Syn", I decided to revisit director Charles Band's earlier entry into the 3D science fiction craze with 1982 release of Parasite, a film that proudly proclaimed itself to be the "first futuristic monster movie in 3-D" on all the advertisements. I remember the film being bad but after re-viewing the film after many years it wasn't near as bad as I remembered. To be honest I actually found it to be a rather ambitions film for such a low budget film, like some heart was put into it unlike that OTHER 3D Charles Band film! Taking place in a post-apocalyptic future, the film opens with a somewhat oddly constructed sequence shot to be a like a dream on how a scientist became infected with a parasite he was working on. He then awakens and continues to drive an ambulance in the desert post nuke world. He's on the run from a well dressed mercenary that's driving a "futuristic" Delorian. Along the way he runs into a group of thugs that steal a container and unwittingly release a deadly parasite that starts making food of some of the members. Our scientists, with the help of a cutesy young Demi Moore, must defeat the merc and kill the parasite before he dies and the parasite reproduces, bringing on the end of the world! Considering how low the budget was, Band surprisingly is able to make a believable post nuke world with great, on site locations in south California. He even gets some good performances from our cast who play the film seriously aiding in the films believability. Of course in typical Charles Band fashion some cheesiness does seep into the film especially in the form of our merc who is on the tail of our scientist. A suited guy driving a Delorian waving a killer laser pen just comes off a little silly. The Demi Moore character also seems completely pointless other than to give a very flimsy love interest for our scientists. Stan Winston's (Jurassic Park, The Terminator) parasite effects are actually surprisingly average (also isn't the parasite "growl" here the same sound used for the vampire's "growl" in Tobe Hooper's Salem's Lot miniseries?). Also since the film was made in 3-D, teh 2-D transfer for the home video market looks muddy and murky. Also as expected with films made in 3-D one can expect plenty of pointless scenes of things "comin' at ya" in the camera, the most memorable being a man stabbed with a pipe and the camera zooms in showing some blood beginning to flow out. Overall I actually had a good time with Parasite and it helped wash the bad taste of Metalstorm out of my mouth. I unfairly gave a bash on Parasite in my Metalstorm review but upon reviewing the film I can honestly say it is much better then I remember. For an early 80's low budget monster film you could do much much worse.
Eric Reifschneider
Parasite Quotes
There are no approved quotes yet for this movie.
Discussion Forum
Discuss Parasite on our Movie forum!