Pennies From Heaven
(1981)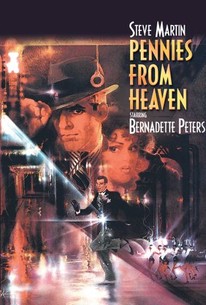 Pennies From Heaven Photos
Movie Info
Adapted from Dennis Potter's landmark British TV miniseries and relocated to the United States during the Depression, Pennies from Heaven dramatizes how popular songs both shaped and reflected the thoughts of people living through economic (and emotional) hardship. Arthur Parker (Steve Martin) is a sheet music salesman who believes that he can spot a hit a mile away and wants to open his own store. But he can't get a bank loan and his wife Joan (Jessica Harper), who has savings left to her by her father, refuses to give him the money. Also, while Arthur has a fierce sexual appetite, Joan generally refuses his advances. While on the road, Arthur meets Eileen (Bernadette Peters), a shy schoolteacher as desperate for affection as Arthur is hungry for sex. They begin an affair, which leads to tragedy for both. Punctuating the drama of Pennies from Heaven are elaborate musical numbers in which the characters lip-synch to popular songs of the day, which at once lift their hopes and reflect their fears. Arthur's buoyant tap number to "My Baby Said Yes" and Eileen's saucy rendition of "Love is Good for Anything That Ails You" are reflections of their needs for money and love, and their pas de deux on "Let's Face the Music and Dance" is at once an escape and an acknowledgement of their hopelessness.
People Who Like this movie also like
Critic Reviews for Pennies From Heaven
Audience Reviews for Pennies From Heaven
½
Based off of the titular BBC miniseries from several years prior, this American production features Steve Martin and Bernadette Peters in the lead roles. The film features dozens of iconic songs from the thirties and forties, several backgrounds painted from the original thirties musicals, and huge numbers akin to the heyday of MGM. Throughout the film the actors lip sync to the iconic singing of people like Fred Astaire, Bing Crosby, The Boswell Sisters, and Ruby Vallee. Though the actors in this film do not sing, they are very talented performers. Steve Martin learned tap dancing for six months in preparation, Peters is a Broadway mainstay, and Christopher Walken had been trained in tap dancing prior, giving one of the more astounding performances of his career. The story follows Martin as music sheet salesman Arthur as he cheats on his wife, runs from the cops, and tries to find happiness in Depression Era America. The story is pretty grim, making Arthur's fantasies that much more heartbreaking. The juxtaposition illustrates that musical numbers really are fantasies in and of themselves, and the people going to see musicals during the Depression were trying to escape their disparity and poverty. Astaire reportedly hated this film because he believed that this period was innocent, and showing its realities was tawdry. In reality, this film was eye opening, and beautiful in its assessment of true life.
Spencer S.
Super Reviewer
People trying to escape to a fantasy world where songs make up for the harsh reality they live in is a subject I find utterly appealing, even more if there is a lively, playful mastermind behind it to inject a good measure of black humour to the mix. Too bad Dennis Potter's amazing writing wasn't adapted to the silver screen by an equally sharp mind. But I pass things like that because I love the period, Gordon Willis' lightning and the lovely tunes. Also, Christopher Walken shows what a great dancer he is.
Pierluigi Puccini
Super Reviewer
As fun as the musical numbers are, there is some very dark drama in this movie. I liked how everyone lip-syncs to the actual songs recorded in the 1930s. Here Steve Martin shows what a good actor he is as well as a dancer. Christopher Walken strip-teaseling to "Lets Misbehave" then telling Bernadette Peters "You'd better not be a tease . . . cause I'll cut your face" is a great scene. I can't speak to this being better than the original miniseries because I haven't seen it, but this film on its own is very good.
Alec Barniskis
Super Reviewer
Pennies From Heaven Quotes
There are no approved quotes yet for this movie.