The Phantom Empire
(1935)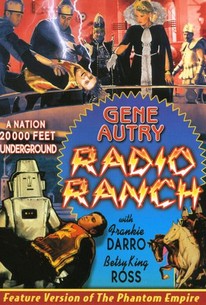 AUDIENCE SCORE
Critic Consensus: No consensus yet.
The Phantom Empire Videos
The Phantom Empire Photos
Movie Info
In his first starring role, Gene Autry must perform daily on Radio Ranch or forfeit his contract. Meanwhile, local kids Frankie (Frankie Darro) and Betsy Baxter (Betsy Ross King) establish a group of Junior Thunder Riders to emulate a mysterious band of horsemen that seems to vanish into thin air. In reality, the real Thunder Riders disappear 25,000 ft. below the earth's surface to the "Scientific City of Murania," an underground empire lorded over by Queen Tika (Dorothy Christy), a blonde Amazonian who constantly compares her superior society with that of the pitiful world above. But Gene's broadcasts draw too many curious onlookers, among them Professor Beetson (J. Frank Glendon) and a group of crooked scientists who will stop at nothing, including murder, to get their hands on Murania's wealth of radium. While Queen Tika is busy preventing an insurrection lead by the evil Lord High Chancellor (Wheeler Oakman), the scientists do their level best to keep Gene from performing his daily broadcast, which includes such favorite Autry tunes as "That Silver-Haired Daddy of Mine" and "I'm Getting a Moon's Eye View of the World". Comic sidekicks Smiley Burnette and William Moore add to the overall fun with their rendition of I'm Oscar, I'm Pete" and other comical selections. The Phantom Empire has been credited with inspiring not only Republic Pictures' similar Undersea Kingdom (1936) but also Universal's superior Flash Gordon and Buck Rogers serials and was remade as part of the short-lived 1979 television series Cliffhangers. No less than two reedited feature versions of The Phantom Empire were released in 1940, Men With Steel Faces, distributed by Times Pictures, and Radio Ranch, distributed by Nat Levine and carrying the now defunct Mascot label.
Rating:
NR
Genre:
, , ,
Directed By:
Written By:
In Theaters:
On DVD:
Runtime:
Studio:
VCI
Critic Reviews for The Phantom Empire
There are no critic reviews yet for The Phantom Empire. Keep checking Rotten Tomatoes for updates!
Audience Reviews for The Phantom Empire
½
mixing singing cowboy westerns with sci-fi= not so much even Autrey is unable to save this hot mess!
Greg Wood
As a serial, it's a bit long, and pretty cheesy, yet it holds some interest. The singing bits and the subplots did make the films confusing. Decent characters, decent ending. Overall, 30's sci-fi/western fun.
Wes Shad
[font=Arial]This stuff is too horrible for words. It makes [i]Plan 9 From Outer Space[/i] look like a masterpiece. The only way to watch this as an adult is with your eyes closed, looking sideways, carefully peering between your fingers out of one eye once in awhile to follow the action. Even then, you spend most of your time cringing, shuddering, giggling, or gasping in amazement. But, you [i]*love*[/i] it anyway, either in spite of its uncountable flaws, or because of them. This serial has had a hold on me for almost fifty years since I first saw it in the early '50's. Every recollection of it brings a smile. It is a serial with everything, and combines elements of every movie genre one can imagine: western, musical, comedy, science fiction, crime, and dashes of horror and child adventure. It has cowboys, evil scientists, lost cities, robots, radio and television, death rays, machines that resurrect the dead, and radium. Radium everywhere. This wonder element is the fuel that powers every futuristic machine in the hidden, underground city, and the desire of the evil scientists who scheme to get rich from it, and will kill to further their schemes. As adults, of course, we are obliged to ignore the reality that radium couldn't possibly do what it does here, but that's a trivial detail, irrelevant to the fun at hand. The robots are a hoot: garbage cans that walk, but they are the only part of this movie I never came to accept. You watch each chapter for a little while, and it begins to take you in. It isn't long before you're thinking, [i]"This is terrible, but with just a little work here and there .. it could be pretty good."[/i] Then, you're hooked, and it's time to apply for membership in the Thunder Riders. There is no way this serial could be remade today. For one thing, the notion of Radio Ranch, a radio variety program broadcast from a remote location, doesn't fly in a world of HDTV and personal computers. But, so help me, I can't help wishing someone would try![/font]
Robert Butts
The Phantom Empire Quotes
There are no approved quotes yet for this movie.
Discussion Forum
Discuss The Phantom Empire on our Movie forum!