Playroom
(1990)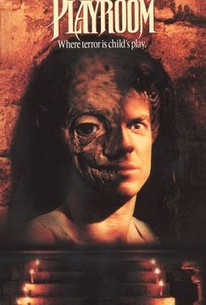 AUDIENCE SCORE
Critic Consensus: No consensus yet.
Movie Info
In this creepy horror movie, an archaeologist gets in over his head when he goes searching for the burial place of a young medieval prince. It is the same tomb his parents were looking for when they were mysteriously murdered. Unfortunately, he finds the tomb. The trouble comes when the malevolent spirit of the boy prince rises up to wreak havoc on the scientist and his expedition. The film is also known as Schizo.
Critic Reviews for Playroom
There are no critic reviews yet for Playroom. Keep checking Rotten Tomatoes for updates!
Audience Reviews for Playroom
½
Playroom (directed by Manny Coto, who did one of my favorite B-movies, Dr. Giggles) is the story of a young boy who wakes up to find his family slaughtered in a archeological dig site in Yugoslavia and hiding from the killer who roams the halls and catacombs. Now, many years later, said boy, now grown up Christopher McDonald (the infamous Shooter McGavin in Happy Gilmore) continues to have nightmares of that night, not to mention winds up discovering a map to help finish his father's dig and uncovering of a sadistic prince. Determined to find the lost prince and conquer his inner demons, McDonald sets out with girlfriend, Lisa Aliff (who gets naked and shows off her hot body), photographer James Purcell (who plays a nicely developed character that I wish had more of an impact), and his girlfriend Jamie Rose (she's also been in Chopper Chicks in Zombietown). As they continue the dig, McDonald's character starts to uncover more and more about that fateful night his family died, not to mention go a little crazy in the process. Turns out, McDonald's slightly sadistic imaginary friend (or maybe the immortal prince?) has been lurking around for a long time in those catacombs by himself and he's eager to play with his long lost friend again. The ultimate result winds up being a steady and decent buildup of a film until it goes crazy in the last 30 minutes and delivers us a comical 80's style slasher film, with a hilarious wise-cracking monster to boot. I can't remember the last time I laughed so hard. Late, great actor Vincent Schiavelli (Ghost, Lurking Fear, One Flew Over the Cuckoo's Nest just to name a few) shows up as the man who was accused of killing the family for all those years and now has a score to settle. Interesting note, the screenplay was credited as being written by a young Jackie Earle Haley, who had a steady career in acting until disappearing for well over a decade (1993-2006) until coming back with a bang, landing the roles of Rorschach in the Watchmen movie as well as Freddy Krueger in the inevitable Nightmare on Elm Street remake. Fun movie for cheesy horror enthusiasts.
Jason Duron
½
As a character actor, Christopher McDonald is underappreciated. I don't know a single person who likes the guy, and most folkd, when I finally manage to get across who the hell he is, curl up their nose vocally with a varient of, "Oh, [i]him[/i]." For the record, he may be best known for playing TV confidence hawker Tappy Timmons in [i]Requiem for a Dream,[/i] Adrian Zmed's sidekick in [i]Grease 2[/i] or the foil to Adam Sandler in [i]Happy Gilmore[/i]. Right. Oh, [i]him[/i]. So most people probably won't be that interested in [i]Playroom[/i], a mediocre horror flick that actually has McDonald in the starring role. It's not really a great loss, as the film isn't very good, but I'm a big fan of character actors, so it was nice to see him get to play a meaty role as an archaeologist who goes nuts and starts offing people. You see, when he was a kid, Chris (McDonald) was the sole survivor of the massacre of his family, a massacre blamed on his archaeologist father's assistant Roman (the ever-awesome Vincent Schiavelli). Chris, his girlfriend and a bickering couple go back to the site of the massacre in order to complete Chris's father's work--the excavation of the tomb of a prince. Meanwhile, Roman has broken out and is on his way to take revenge on Chris for making him go nuts. Things start going bad when Chris's imaginary childhood friend starts showing up (one guess as to who it actually is) and baiting your hero into doing terrible things. Pretty soon Chris reverts to his 10-year-old self and starts utilizing many of the nifty torture facilities conveniently located in the tomb, like a Bally Workout Center... [b]FROM HELL[/b]. (evil laughter) The problem is that virtually nothing happens in the first half of the movie. Our four lead characters whine a lot about working to hard, bicker to each other and occasionally have silly-looking sex, but the plot advancement comes so slowly you'd think you were buried in there with them. Sure, it's a cool looking tomb, but you can only show people wandering around aimlessly pointing lanterns at things for so long before sleep starts to set in. When things finally do start to pick up, [i]Playroom[/i] gets a lot better with some unique torture death sequences and a clever smattering of sick humor--at its' best when one of Chris's victims-to-be casually strolls out of being chained to a stretch-rack, unaware that she's even supposed to be locked up. McDonald plays nuts with glee, and you come out of your nap feeling refreshed and exhilirated, now that you've been made aware of new and exciting ways to make people fall down deep holes. Sadly, every time [i]Playroom[/i] starts to get good, it craps out again in the execution. The final reveal of the prince in his "natural" form looks like a sixth-rate muppet, and they try to show it as little as possible, but the damage is done. It's really more sad than laughable, but in any case, it's not really scary, so the climax ends up getting blown because the monster in charge of everything just doesn't look convincing. There's good moments in [i]Playroom[/i], and director Manny Coto ([i]Dr. Giggles[/i]) at least knows well enough to make the most use of the cool atmosphere, but way too much time is spent to getting to the point where things happen, and when they finally do, they don't make much sense. Still, anything is made instantly better by the presence of Schiavelli, who gleefully yelps his threats and ends up pulling off the climactic showdown despite the film's limitations. McDonald is good as well, but even when talking like a ten-year old, he's still, y'know, [i]him[/i].
Paul Freitag
Playroom Quotes
There are no approved quotes yet for this movie.
Discussion Forum
Discuss Playroom on our Movie forum!