The Poseidon Adventure
(1972)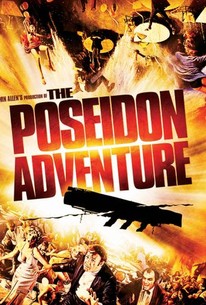 The Poseidon Adventure Videos
The Poseidon Adventure Photos
Movie Info
The Poseidon, an ocean liner larger than the Queens Elizabeth and Mary combined, is charting its course on New Year's Eve. Just after midnight, Captain Harrison (Leslie Nielsen) spots the mother of all tidal waves. It is the last thing that Harrison and practically everyone else onboard sees before drowning -- the Poseidon is turned upside down, with only a handful of survivors. The ten lucky ones -- including Mike Rogo (Ernest Borgnine), Linda Rogo (Stella Stevens), Acres (Roddy McDowall), Belle Rosen (Shelley Winters), and Manny Rosen (Jack Albertson) -- led by no-nonsense minister Frank Scott (Gene Hackman), desperately attempt to climb from the top of the ship (now submerged) to the bottom (now "the top"). The film's theme song, "The Morning After," sung by Maureen McGovern, earned an Oscar. In addition, The Poseidon Adventure received the Special Achievement Award for Special Effects; L.B. Abbott and A.D. Flowers were the recipients. A sequel, Beyond the Poseidon Adventure, came out in 1979. ~ Hal Erickson, Rovi
Rating:
PG (N/A)
Genre:
, ,
Directed By:
Written By:
In Theaters:
On DVD:
Runtime:
Studio:
News & Interviews for The Poseidon Adventure
Critic Reviews for The Poseidon Adventure
Audience Reviews for The Poseidon Adventure
½
While the "disaster flick" moniker certainly applies, here is actually a pretty good adventure tale of escape as a old luxury liner capsizes, forcing an intrepid few to attempt their own rescue through the ravaged remains of the topsy turvy steel boat. A guilty pleasure!
Kevin M. Williams
Super Reviewer
Incredible, i saw this movie at a screening in Chicago, where three of the actors from the movie were there, Stella Stevens, Ernest borgenine, and someone else but i dont remember her name. I wasn't expecting much from this movie but i was blown away by how spectacular it was. It was very realistic, the drama was so human, that it was spectacular. The actors all played fantastic roles, and the movie really had guts to kill off 5 main characters. Plus when one of them dies, the husband of said dead person (played by grandpa joe from willy wonka) said her name and weeped over her body i burst into tears, and i did that several times in this movie. And i liked it better than titanic for two reasons, one it has more main characters that you like so much that you don't want them to die, and two i personally think that it was better because of how it got straight to the punch, and not have to wait for 2 hours just waiting for the iceberg to hit, because like 20 minutes in it just smacks you with the ship turning over by an unexpected tidal wave after an earthquake. It shows how these 13 people (about 100 didnt go with) have to struggle with each other in order to get out of the ship and find safety, and you latch on to each of the characters as the movie progresses.
Michael Edwards
Super Reviewer
½
When most people think of disaster films today they'll think 2012 or Disaster Movie, but The Poseidon Adventure completely revolutionized the genre. It has all the elements: Group of survivors, big budget special effects and as you may have guessed, a disaster. This particular disaster happens to be a huge wave crashing into a cruise liner called the Poseidon and it ends up being turned upside down. Now a group of survivors have to make their way out and that's the story. The story plays out really well as a matter of fact, which is saying a lot considering all the special effects that could have just as easily overshadowed the plot. One of my favorite things about the film were the characters. I cared about each character and I wanted them to survive. Something like that doesn't usually play out as perfectly as in this film. The acting is also terrific by each and every actor. My personal favorite performance was Gene Hackman as the untraditional reverand. He does have faith in God, but he doesn't think that an afterlife is an excuse to just die. He wants to lead the survivors out of the overturned cruise liner and he most definitely has the will to live. The special effects for this film won the Oscar for best special effects and rightfully so. The scene where the ship overturns is just awesome to watch with all the people smashing into stuff and hanging onto the tables that are now attached to the ceiling. (Technically it's still the floor, but you know what I mean.) A lot of people like to compare this movie with Titanic, and I do understand that, but I prefer Poseidon Adventure over Titanic. I did like Titanic, but it's a flawed movie. Just for the sake of comparing, Titanic's sinking scene was more emotional and dramatic, but the sinking in this movie was more realistic with the confusion, chaos and more practical special effects. If you like disaster movies then you're most likely going to like The Poseidon Adventure. It has all the characters, talent and entertainment any avid movie buff would want in a movie like this.
Tyler Robertson
Super Reviewer
The Poseidon Adventure Quotes
There are no approved quotes yet for this movie.