Rain
(1932)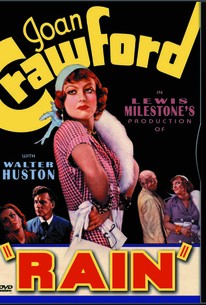 Movie Info
While stranded on a small tropical island awaiting passage, a hardened prostitute becomes the unwilling target for redemption of a relentlessly self-righteous fire-and-brimstone preacher. This atmospheric remake of the silent Sadie Thompson (1928) was based on a W. Somerset Maugham novel and features a classic early Joan Crawford performance.
Audience Reviews for Rain
The rain falls incessantly in this movie, bringing to mind Matthew 5:45, "he sendeth rain on the just and the unjust alike". In this case, it seems clear that the 'unjust' are actually the devout Christians (Walter Huston and Beulah Bondi), as they sanctimoniously judge Joan Crawford's character and cruelly use their influence to get orders for her immediate deportation from Pago Pago, where this film is set. She is likely a prostitute, but the reason for his action stems from her (gasp) moral crime of listening to music and dancing with some soldiers on the Sabbath. As a more tolerant man observes, "we've all crossed thresholds we don't brag about", but Huston is relentless in cross-examining her about her past, and demanding that she get on the right side of the Lord, even though they've just met. It's interesting to see Crawford stand up to him in what are the best scenes of the film. "You keep yellin' at me to go back and be punished, to suffer - how do you know what I've suffered? You don't know, you don't care, and you don't even ask - and you call yourself a Christian!", she yells, and "Your God and me will never be shipmates, and the next time you talk to him you can tell him this for me - that Sadie Thompson is on her way to hell!" However, she is eventually cowed and resigned to be repentant, which is the first unbelievable part of an unbelievable ending, which I won't spoil. The movie is a little hard to watch because the main characters are so unlikeable. Huston and Bondi are righteous prigs. Crawford is heavily made up and often over-acts her part. There are a few good scenes, however, and it may be of interest to see this adaptation of the short story by W. Somerset Maugham, which spurred several other movies and plays.
Antonius Block
Super Reviewer
½
A beautifully-shot, well-acted train wreck with a holier-than-thou, carrot-and-stick approach and a confusing ending which renders it pointless.
Joseph Brown
whether intentionally so or not, Rain is Crawford at her campy best. The scene inwhich the zealous missionary confronts her character, a freewheelin' prostitute, as if she is demon possessed, reciting the Lord's Prayer,etc. is a riot, as is some of the movie's dialogue. Miss Crawford must've been quite a personality; she seemed to relish playing roles like this, tough "bad gals" with a tongue that could reduce others to rubble.
Steven Kerry
Rain Quotes
There are no approved quotes yet for this movie.
Discussion Forum
Discuss Rain on our Movie forum!