The Razor's Edge
(1946)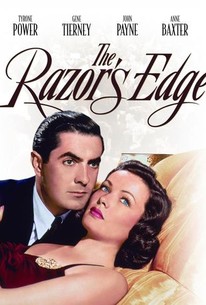 Movie Info
After several years' service with the Marines in World War II, Tyrone Power made his much anticipated return to the screen in The Razor's Edge. Power is appropriately cast as disillusioned World War I vet Larry Darrell, who returns from hostilities questioning his old values. To find himself, Larry joins several other members of the Lost Generation in Paris. He is disillusioned once more when the society deb whom he loves, Isabel Bradley (Gene Tierney), marries another for wealth and position. She returns to Larry's life to break up his romance with unstable, alcoholic Sophie MacDonald (Anne Baxter in a powerhouse Oscar-winning performance). After Sophie's death, Larry determines that the life offered him by Isabel is not to his liking, and continues seeking his true place in the scheme of things. Acting as a respite between the plot's various intrigues is Clifton Webb as a waspish social arbiter, who ends up a lonely, dying man, imperiously dictating arrangements for his own funeral. The Razor's Edge was based on the novel by W. Somerset Maugham, who appears onscreen in the form of Herbert Marshall. The film would be remade in 1984, with Bill Murray in the Tyrone Power role. This film re-teamed Tierney and Webb two years after their appearance together in Laura.
Critic Reviews for The Razor's Edge
Audience Reviews for The Razor's Edge
An absolute thought film, deep and so engrossing. This is a trancendental film, a near religious experience, I loved it. A adventuresome young man goes off to find himself and loses his socialite fiancée in the process. But when he returns 10 years later, she will stop at nothing to get him back, even though she is already married. [img]http://www2.liu.edu/cwis/cwp/library/sc/posters/web/Picture68.jpg[/img] It seemed to never end, I only hope the same is not for you as I kept thinking, this movie has a great ending..... or does it. [img]http://t2.gstatic.com/images?q=tbn:ANd9GcREfLikWRYiImxn_mN56UVUJlUewCKAfaNnJ8QtNCiFq_a_6BSrYw[/img] REVIEWS by those like us: 1 "The Razor's Edge" is one of Hollywood's finest attempts to bring high-brow [ie high intelligence] material to the masses.... [ie low intelligence] audiences. (the "masses" are usually portrayed as a bunch of sheep, cattle, and other "led" things). [img]http://t3.gstatic.com/images?q=tbn:ANd9GcQMW9LoYtngwMwpfBJuF2JusLEbPNLGhqf6IANzBAC7rbjidx7-XA[/img] 2 70% One of Zanuck's "Very Important" films, and time hasn't been kind to it. It is unwieldy, it is bloated, and there is some shameless hamfisted acting... [img]http://t0.gstatic.com/images?q=tbn:ANd9GcQPsOWQ4Wz2n10cba2TpjkAHxgZwcXbfWaotlTOwURjGLpuibw_8A[/img] 3 Deep thinking, but not so fast, it's a winner as well. ----King Kong Speaks.com [img]http://upload.wikimedia.org/wikipedia/en/thumb/9/98/RazorsEdgeNew.jpg/200px-RazorsEdgeNew.jpg[/img] NOTES: 1 Maugham begins by characterising his story as not really a novel but a thinly veiled true account. He includes himself as a minor character, a writer who drifts in and out of the lives of the major players. Larry Darrell's lifestyle is contrasted throughout the book with that of his fiancée's uncle, Elliott Templeton, an American expatriate living in Paris and a shallow and unrepentant yet generous snob. [img]http://t2.gstatic.com/images?q=tbn:ANd9GcSloUW86KfvUiAYHIWsLa0z6vHdhtOKHuuCXNb5dPJh1JsezRLOuw[/img] 2 The Razor's Edge tells the story of an American pilot traumatized by his experiences in World War I, who sets off in search of some transcendent meaning in his life. The novel is supposed to be based on the life of Guy Hague, an American mining engineer. Director: Edmund Goulding Writers: Lamar Trotti (screenplay), W. Somerset Maugham (novel Stars: Tyrone Power, Gene Tierney [img]http://content8.flixster.com/photo/11/95/43/11954398_gal.jpg[/img] and John Payne [img]http://t0.gstatic.com/images?q=tbn:ANd9GcRt3AKhPSL0sHY1RRi6fFJl1szmGDI5jtFInAZ0X84PbJ-xD4gVww[/img]
monsieur rick
An okay adaptation of Maugham. It isn't a great "returning home" film but Maugham's book does present some real challenges in terms of adaptation. A modern director likely would have been able to do the trick.
John Ballantine
Super Reviewer
This movie sounds very promising, but it wasn't as good as I expected. The story is very normal, very long, and gets boring eventually. It isn't a bad movie, it just isn't the emotional, dramatic, yet entertaining film it could have been.
The Razor's Edge Quotes
There are no approved quotes yet for this movie.
Discussion Forum
Discuss The Razor's Edge on our Movie forum!