The Reincarnation of Peter Proud
(1975)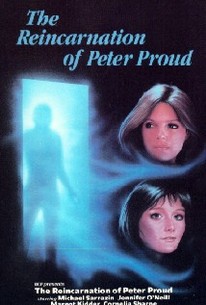 AUDIENCE SCORE
Critic Consensus: No consensus yet.
The Reincarnation of Peter Proud Photos
Movie Info
When a man becomes aware, through repeated nightmares, that the ghost of a murdered man dwells within him, he travels to the scene of the murder to help sort things out and discovers terrors that have yet to unfold.
Rating:
R
Genre:
,
Directed By:
Written By:
In Theaters:
Runtime:
Studio:
American International Pictures
Audience Reviews for The Reincarnation of Peter Proud
½
The story and theme of this movie was excellent. But poor performances, real dull script and horrible cinematography destroyed what could have been a real classic.
I want to give it 10 stars
Steve Strange
Super Reviewer
I've seen the cult thriller [b][u]The Reincarnation of Peter Proud[/u][/b] several times and it remains one of the best movies made with the wrong people. Though I've not read the book, this film's premise continues to intrigue and send chills down my back. And it only could have been fully realized in the seventies, with an early, electronic Jerry Goldsmith score that's next to perfect, and set when reincarnation was, in this country, still a "fad." Since it works so well for its time period, it's a shame that it's got such drawbacks. For one, Margot Kidder doesn't pass off as a sixty-year-old woman very well, and the old age make-up (or lack thereof) at all isn't convincing. And the woman playing Peter's girlfriend at the beginning is a horrible actress playing an annoying and unnecessary character. (I cringe whenever she says--playing the oh-so necessary "ardent non-believer" character, "Take it from me, Peter. When you're DEAD, you're DEAD.") She's basically in it for T&A--and this is a gratuitously racy movie for 1974. And, speaking of gratuitous, there's the endless "travelling through Massachusetts" sequence in the middle of the movie. Michael Sarrazin isn't bad--a pretty one-dimensional character when you get right down to it. The director, J. Lee Thompson (most famous for the original "Cape Fear," I believe) does a good job with the suspense and the intersplicing of Proud's past memories. And the last shot is pretty incredible. But with that much wrong, why do I still give it an 8? It's well-directed, it's a great premise, and the Goldsmith score is wonderful. But it needs to be remade...and it was supposed to be remade by Paramount back in 2003, with David Fincher in talks to direct. I'd suggest someone like Christopher Nolan, because the intersplicing of past memories is his signature move and he can really make good thrillers. An electronica score may be [i]too[/i] seventies, but maybe Nolan could bring in the Goblins--they're still together, right? If not them, I'm sure Angelo Badalamenti could do it, or frequent Nolan contributor David Julyan. I could picture Tobey Maguire or someone like that in the lead...just as long as it doesn't turn into a Paul Walker movie. I hate Paul Walker. Keep him away. Anyway, the original "Proud" is kind of a hard find. I found it on VHS on Amazon and I know if you google for it, there's bootleg DVD versions. I'd recommend it. It needs to be seen.
Tyler Rubenfeld
The Reincarnation of Peter Proud Quotes
There are no approved quotes yet for this movie.