Rich and Famous
(1981)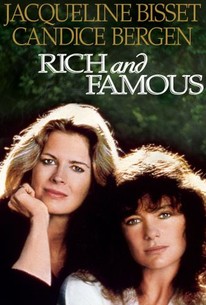 Movie Info
Rich and Famous explores the vicissitudes of a 20-year friendship between two women (Jacqueline Bisset and Candice Bergen). One's an author, the other's a housewife and mom. They both rely on their somewhat competitive relationship to anchor their lives and wouldn't want to lose each others' companionship, though sometimes things get testy.
Rating:
R
Genre:
,
Directed By:
Written By:
In Theaters:
On DVD:
Runtime:
Studio:
MGM Home Entertainment
Critic Reviews for Rich and Famous
Audience Reviews for Rich and Famous
½
The last movie of prolific director, George Cukor, is probably his worst. The acting is terrible and the story is incredibly boring. (First and only viewing - 1/19/2016)
Adam R
Wow! This Was B-A-D ! Incredibly embarrassing final film for director George Cukor. His great career wheezes to a stiflingly bad conclusion in "Rich and Famous." I am guessing it is supposed to be an R-rated version of the popular "women's pictures" from times previous. But, instead, it lurches so uncomfortably with terrible dialogue that no one would EVER speak. The performances are rudimentary, at best, with Bergen's terrible come-and-go attempt at a southern accent the most egregious. I only watched it on TCM because: 1.) There was nothing else on, and 2.) To see how bad this trainwreck would be. Conclusion: Pretty bad! ** (2 Out of 10 Stars)
John Miller
George Cukor's final film is not a bad turn. In fact, had it been helmed by lesser filmmaker it might be a bit easier to enjoy. While that seems unfair, one really would have expected more from this director and his two leading ladies. Bergen and Bisset are both quite capable in their respective roles. Bisset has the two strongest scenes in the film: an uncomfortable erotic encounter in a plane toilet and a truly sensual scene of a younger man undressing for an older woman are both effective and memorable. Despite some great comic timing, Bergen's performance comes off as crating. This should have been a much better film. Though, it certainly could have been much worse.
Matty Stanfield
Rich and Famous Quotes
| | |
| --- | --- |
| Liz Hamilton: | I don't know why it is, but writers, many writers, must face some daily barrier of fear. But as a dear old man, James M. Cain, once said, if your writing isn't keeping you up at night, it isn't keeping anyone else up, either. |
| Liz Hamilton: | I don't know why it is, but writers, many writers, must face some daily barrier of fear. But as a dear old man, James M. Cain, once said, "If your writing isn't keeping you up at night, it isn"t keeping anyone else up either." |
| | |
| --- | --- |
| Liz Hamilton: | Do me a favor. Let's forget about the interview. We've written something spectacular together, but it's a private edition, let's not make it public. |
| Liz Hamilton: | Do me a favor. Let's forget about the interview. We've written something spectacular together, but it's a private edition, let's not make it public. |
| | |
| --- | --- |
| Merry Noel Blake: | Was it any good? |
| Liz Hamilton: | Why do they always end up alone? |
| Merry Noel Blake: | Who? |