Rollerball
(1975)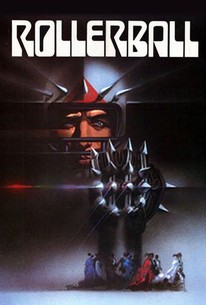 Movie Info
In a future world ruled by industrialists, "civilized" society has removed violent activity and a new sport, rollerball, has emerged. The industrialists oppose the ultimate rollerball champ, fearing that his popularity will make him too powerful. To get rid of him, they make contests last until one side is vanquished.
Critic Reviews for Rollerball
Audience Reviews for Rollerball
½
The star player of a gladiatorial future sport is ordered to retire by the corporate executives who see his popularity as a threat to their totalitarian grip on society, but when he resists they begin to change the rules of the game to ensure his failure. Rollerball is another example of 70s dystopian sci-fi that mingles brutal action sequences that represent the games and more measured, cerebral scenes that examine the nature of a society in the thrall of fascism. Obviously very much based on the Roman concept of "bread and circuses", as the character of Jonathan E. begins to question his role despite all the comforts he has come to enjoy at the behest of the faceless corporations who now wish him to disappear. Caan makes a solid anti-hero who only stops to think about the political situation once it directly affects his own wants and needs and there is a memorable cameo from Ralph Richardson as an eccentric librarian.There is perhaps a little too much disparity between its bloody action and the extremely low key concept driven scenes in between, but Rollerball is still a thought provoking sci-fi with plenty of nostalgic 70s styling to enjoy.
½
"Rollerball," directed by Norman Jewison ("In the Heat of the Night," "Moonstruck") and starring James Caan ("The Godfather"), has a good premise. From the standpoint of the mid-1970s, it looks ahead to the 21st century, envisioning a global society ruled by a handful of corporations. No more national governments. The corporations sponsor the eponymous roller-derby game, and Caan's character is the game's biggest star. The executive sponsor of the game (played by John Houseman) suddenly turns against Caan, fearing that his popularity has begun to undercut the point of the game, which is to teach that individualism is futile. Houseman orders Caan to retire, but Caan refuses. The corporations are not used to defiance, and they don't immediately know how to handle the situation. Let's just say that a titanic struggle erupts. I won't say who wins in the end. Unfortunately, the editing of the film is so poor that any tension inherent in the story is bled out. There are countless scenes that are unnecessary, and the necessary ones go on too long. For a movie like this to have a two-hour running time is absurd. If Jewison had edited himself, he might have produced a crisp thriller with interesting undertones posing questions about the development of corporate power. Instead, he ended up with a thriller so bloated, ponderous and over-long that it's hard to watch without falling asleep. What a shame. An historical aside: The big movie of 1975 was "Jaws," which created the phenomenon of the summer blockbuster and made Steven Spielberg one of the most famous men in the world. Other popular American films that year: "One Flew Over the Cuckoo's Nest" (which won the Best Picture Oscar), "Dog Day Afternoon," and "Shampoo." It was also the year Robert Altman's near-masterpiece "Nashville" came out, a film I saw for the first time just a couple months ago.
William Dunmyer
Super Reviewer
½
In the future rollerskating is a deadly sport where anything goes, yes rollerskating. Its 2018 and the world is a corporate state, a dystopian future where everything is controlled by various global corporations. The 'Energy Corporation' based in Houston controls the Houston Rollerball team and pretty much the players of the team too. 'Jonathan E' is the greatest Rollerball champion of his time, possibly all time. The corporation love their star player but want to retire him, Rollerball was meant to quench the public's blood lust but also show the futility of individualism. 'Jonathan's' long standing career in the sport goes against this purpose and what the corporations want to see. By today's standards this is an unoriginal type of plot but back in 75 it was quite unique. Its not an all out action packed film either, this is a slow burner with periods of game play to wet your appetite for the finale battle. The film is of course severely dated now with all the 70's fashions, set designs, hair styles, text fonts and ideas of the future but it also looks quite slick too. The Rollerball teams do tend to look somewhat under protected for what they play and again their attire is badly dated but it does have that Orwellian big brother police state feel and taste which is the main crux. The film does feel somewhat cold and harsh, there is no warmth anywhere, everything does look and feel bland, minimalistic and almost clinical. You do pick up on the trapped feeling that 'Jonathan' has, the emptiness of his life without his wife whom he lost to the laws of this corporate-run society. All he has is the sport and his team mates. Its interesting to note that there is no soundtrack in this film either, unlike the abomination that was the remake. This almost adds to the bleak vision of the film, no music, very little uplifting moments, as if to enjoy yourself is frowned upon. The only score we have is 'Toccata and Fugue in D minor' at both ends of the film. At the start it feels like impending doom whilst at the end it feels like there is no happy ending for 'John E', you are left unsure what happens after his in game actions. So the atmosphere throughout the film is really well done without you even knowing it, a fake sterile world run by suits. This for me is probably Caan's best role, I really couldn't see anyone else as 'John E'. The films main player needed to hold the film and Caan does just that, everyone else does well but like in a real team situation Caan is the captain, the glue. Its not a stunning film visually but less is more, a winning formula modern films fail on so many times. The game sequences aren't overly bloody and they aren't fast paced, but at the same time they aren't over the top. I admit at times you do wish it was a little more brutal and zippy but its probably more realistic I guess, sound effects help a lot. The final game is much more violent as the tension bubbles, the anti-authoritarian anti-corporation theme really kicking in as each player goes down leaving 'E' to decide his fate, it gets your adrenaline going for sure. A film that has influenced so many genres, as anyone who remembers the classic Amiga computer game 'Speedball' will know. The brutal bloodsports concept was probably kicked off by this film and 'Deathrace 2000' both in 75. Ignore the horrendous remake which loses all concept of what this film is about, this is the true Rollerball. A futuristic Roman gladiatorial update of sorts. A popular theme which teeters on a knife edge of truth directed at reality, how far are we from this kind of world?
Phil Hubbs
Super Reviewer
Discussion Forum
Discuss Rollerball on our Movie forum!