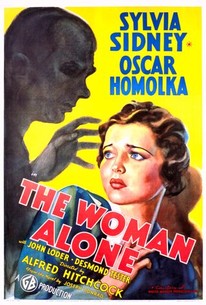 Sabotage
1936, Mystery & thriller, 1h 16m
12 Reviews
5,000+ Ratings
Where to watch
Rent/buy
Subscription
Rent/buy
Rate And Review
Movie Info
A ring of saboteurs is causing havoc in London with a series of explosive terrorist attacks. Karl Verloc (Oscar Homolka) is part of the group, but he maintains a cover as a kind movie theater owner. His wife (Sylvia Sidney) is beginning to suspect something, though, and so is Scotland Yard Detective Sgt. Ted Spencer (John Loder). What neither of them know, however, is that Verloc uses his wife's little brother (Desmond Tester) to deliver the bombs in film canisters.
Genre: Mystery & thriller

Original Language: English

Director: Alfred Hitchcock

Producer: Michael Balcon

Writer: Charles Bennett, E.V.H. Emmett, Jesse Lasky Jr., Helen Simpson

Release Date (Theaters): original

Release Date (Streaming):

Runtime:

Distributor: Cine Art Pictures, Film Effects Inc. [ca], LS Video, Gaumont British Distributors, Century Video, Gaumont Pictures, Criterion Collection

Production Co: Gaumont, Shepherd, Gaumont International

Sound Mix: Fantasound

Aspect Ratio: Flat (1.37:1)
Audience Reviews for Sabotage
One of Hitchcock's darkest movies but still deeply human and filled with idiosyncrasies. And yeah, the bomb sequence is masterful.

Hitchcock at his most ruthless in this tale of saboteurs in London told to step up their game after 'merely' blacking out the whole city because 'that wasn't big enough'. Things can only get direr after that. Hitch plays a lot with under-the-table messaging too as much of the action happens in a movie theater, and would Hitch use those moments to speak to us? You bet. Sylvia Sydney would never work with him again after this ratchet of tension.

In this 1936 film from Alfred Hitchcock, a foreign terrorist group is operating in London, and their agent (Oskar Homolka) operates a movie theater as a cover, along with his unsuspecting wife (Sylvia Sidney) and her teenage brother. Homolka is suitably creepy, glowering behind bushy eyebrows, and the kitten-faced Sidney may remind you of Myrna Loy. Scotland Yard is on to Homolka, and their man (John Loder) spies on him and cozies up to the family in an attempt to learn more. Unfortunately, with the exception of a couple of scenes, the film is rather slow and sedate, and is only of interest because it's one of Hitchcock's early pre-Hollywood efforts. Spoiler alert from here on. Hitchcock does provide tension in the pivotal sequence where, because of police surveillance, Homolka is forced to send the young boy out to deliver a package containing a bomb. He emphasizes the importance of getting to his destination by 1:30, knowing the bomb is set to go off at 1:45, but of course the boy doesn't know that and ends up being delayed on his way (comically being dragged into a demonstration by a peddler of toothpaste and shampoo at one point). While we feel the suspense, Hitchcock as a younger director exercises no restraint at all, melodramatically increasing the volume of the music and showing us the time on clocks repeatedly as it gets closer and closer to 1:45. To Hitchcock's credit (or Joseph Conrad's, the author of the story) the bomb does go off, and it is a little shocking even today. Imagine what the reaction was like in 1936 to have an innocent boy, one moment playing with a puppy on a bus, the next minute gone, along with all of the other passengers. The shock presages other Hitchcock moments, such as the shower scene in Psycho. Unfortunately, in the wake of this, the emotional reaction of the characters doesn't ring true, though it does lead to what I think was the best scene in the movie - the mother thinking her son is running towards her on the street, which for a split second has us somehow believing, as she does, that he's survived. Watch it for the bomb scene and for Sylvia Sidney, but it's certainly not a classic.

Hitchcock knows how to combine an espionage plot with humor, and this film can also be very tense (especially in a key scene of a boy carrying a package throughout the city and on a bus), even if it is not always so effective and suffers a bit from some weak narrative choices.
See Details