Sacco and Vanzetti (Sacco e Vanzetti)
(1971)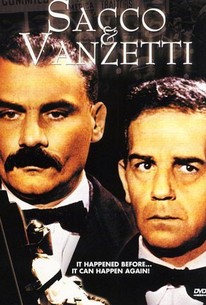 Sacco and Vanzetti (Sacco e Vanzetti) Photos
Movie Info
One of the most notorious American judicial cases of the 20th century is paced and photographed like a spaghetti Western in the Italian Sacco and Vanzetti. There is no denying that Nicola Sacco (Riccardo Cucciolla) and Bartolomeo Vanzetti (Gian Maria Volontè) were anarchists. But it is highly doubtful that Sacco and Vanzetti were guilty of murder. However, their trial took place at the height of the 1920s "Red Scare," so there was little opportunity for the two men to receive fair treatment. Despite worldwide protests from politicians, intellectuals, and "average Joes," Sacco and Vanzetti were executed on August 23, 1927, after spending nearly seven years on death row. Like most TV and film accounts of this story, Sacco and Vanzetti is clearly sympathetic to the main characters.
Critic Reviews for Sacco and Vanzetti (Sacco e Vanzetti)
Audience Reviews for Sacco and Vanzetti (Sacco e Vanzetti)
"Here's to you, Nicola and Bart, rest forever in our hearts; the last and final moment is yours, and agony is your triumph!" I'm sorry, but I've got this film's theme song stuck in my head now, because it's an orchestra-backed folk tune about the suffering and death of two innocent men, and yet it's somehow catchy, kind of like "Eleanor Rigby", except "Here's to You" had a considerably improved cover that wasn't an instrumental interpretation by some black guy in the '80s (I emphasize "'80s" because the improved cover sure wasn't by Kansas in '98, and I emphasize "black" because, forget Jimi Hendrix, Stanley Jordan gets my pick for best black electric guitarist). I don't like modern music and I sure don't play any video games, but hey, I must admit that the slower and more sweeping cover of this film's theme song that they did for "Metal Gear Solid: Guns of the Patriots" is pretty awesome, if a touch over-the-top after a while. Hey, the lyrics that I opened this article up quoting really are the only lyrics to "Here's to You", except repeated enough times for Bruce Springsteen in concert to say, "Okay, we get the point, now, if you'll excuse me, hiding on the backstreets, hiding on the backstreets, hiding on the backstreets...", so I reckon Lisbeth Scott was going to have to really pump the soul as the song went along to keep things sounding dynamic, or at least enough to make up for Joan Baez's doing less to keep the lyric repetition dynamic and more to bash the lyrics against your head until, well, they got stuck deeply enough for you to open an article quoting them. Seriously though, I'd be more reluctant about admitting that a relatively recent cover of a 1970s song is a vast improvement, but, to be fair, the version featured in "MGS4" has a classically trained singer and the great Harry Gregson-Williams rearranging a composition by the great Ennio Morricone, whereas the version featured in this film has... Joan Baez. Yeah, I'm not the biggest Joan Baez fan, though I'd imagine what few readers I have are thinking that she might be more interesting than this film, seeing as how I just spent six sentences just talking about a song in it. Well, sure enough, this film doesn't really have a whole lot that's all that memorable, but make no mistake, there are commendable aspects, one of which I opened this article citing as memorable: the music, or at least what little of it there is. Alright, I would first like to mention that this film is quite quiet and relies very, very little on its musical aspects, so the great score composer Ennio Morricone is only able to contribute so much, yet when his efforts finally, finally, finally come into play, they bring along a certain subtly nifty style that goes color up by Morricone's legendary sharp tastes in classical soul. ...So, yeah, I'm stretching so much to find a strength in this film that I've gone so far as to compliment the only three pieces of music in this dully quiet film whose lack of musicality as a form of atmospheric punch-up plays an, if you will, instrumental role in driving the final product into a disengaging state, but I'll take what I can get, as subject matter of this type deserves as much as it can get. Granted, this film's story concept largely needs as much punch-up as it can get because its thin, and because the shortcomings in the telling of such a minimalist tale all but wash away what intrigue is left, yet a just as considerable reason why this film needs to be executed well is because the subject matter is still very worthy in plenty of areas. The thematic depth of this film's story is particularly valuable, and while it is generally handled heavy-handedly, it is sometimes brought to life by highlights within Giuliano Montaldo's direction, which overambitious and flawed as all get-out, but whose effective beats - captured through anything from moderately haunting plays with imagery to a moments in which the bland thoughtfulness to storytelling soaks up a strong area in the drama - are hard to deny. When Giuliano delivers about as well as he's going to with this film, he brings things to life, but doesn't do so without any help, because if nothing else is consistently inspired in this film, it's the performances of Riccardo Cucciolla and Gian Maria Volonté, whose material as the titular leads is limited, but milked for all its worth upon its arrival, generally through dramatic subtlety and sometimes through potent heights in emoting. I wish I could say that the strengths of this film were greater by their own right, let alone strong enough to save the final product from mediocrity, but they are here, and they're hard to deny, reinforcing enough of what weight there is to this drama for the final product to come close to genuine decency. Alas, the strengths just aren't enough, because even with its highlights, the final product ultimately falls flat, even when it comes to expository depth. Look, we know the story of Bartolomeo Vanzetti and Nicola Sacco, or at least we should, but as a character piece, this film offers little, if anything in the way of immediate development, with expository depth during the body that is paper-thin beyond belief, and such developmental shortcomings do some serious damage to the impact of this drama that is driven by characters you have trouble associating with, though I can't say that I'm all that surprised by the limited care in fleshing out the depths of this character drama, as the characters feel more like components to the film's message rather than components to a genuinely well-drawn story. The film's shortcomings in dramatic storytelling cannot fully obscure the value of this subject matter, but it may as well be trying to, because even though I wouldn't say the film is quite as heavy-handed as some of the even more negative reviews say, subtlety is limited in the overblown handling of conceptually worthy dramatic and thematic depth whose effectiveness is watered down greatly by heavy-handedness. What atmospheric kick there is to this bland drama kicks too hard, and I must admit that I feared as much, because this film is too important in concept to not run the risk of succumbing to overambition, and as sure as sunshine, director and one of the "five" writers (That's a big writing team for such a messy script) Giuliano Montaldo gets carried away in his celebration of a story that is, well, still not all that engrossing, at least in the context of film. Thematically, sure, this film's story deserves to be milked for all its worth, but the plot surrounding a worthy thematic core is minimalist, and I'd be lying if I said that it deserves to be executed into a relatively lengthy two-hour runtime, as the film keeps reminding me by getting fatty around the edges with repetitious, maybe even monotonous material that thins out focus, little my little, until a sense of direction starts to fade. The film wanders aimlessly down a heavy-handed and overblown path, and that really retards momentum, but quite frankly, when you step back and look at things, overly steady plotting, subtlety issues and expository shortcomings should, for all extents and purposes, not be enough for the final product to slip into mediocrity, so what really chills the final product away from genuine decency is a cold atmosphere. Being rarely reliant on such colorful tonal punch-ups as score work, as well as deliberately bone-dry in its atmosphere establishment, Giuliano Montaldo's directorial storytelling has a considerable steadiness to it that is sometimes effective in soaking up the subtle depths of this drama, but much more often than not fatally detrimental to the final product's compellingness, keeping blandness sustained between many a spot that is kind of dull, watering down atmospheric kick until investment slips. I hate to say that I couldn't get all that invested in a film this conceptually important, but as ambitious and, in some areas, effective as this drama is, it fails to pick up momentum enough to be carried away from the undercooking of depth, overblowing of dramatic manipulation, and excessive dragging that make the final product a mediocre misfire. In the end, the strong, but seriously underused score by Ennio Morricone, undeniable highlights in direction by Giuliano Montaldo, and strong, sometimes even outstanding performances by Riccardo Cucciolla and Gian Maria Volonté come very close to saving the final product, but alas, there is too little development, too much heavy-handedness, too little tightness in the exhaustingly repetitious plotting, and too much cold dullness to atmospheric storytelling for 1971's "Sacco & Vanzetti" to escape misguided mediocrity as a fall-flat interpretation of a worthy story. 2.25/5 - Mediocre
Cameron Johnson
Super Reviewer
Sacco and Vanzetti (Sacco e Vanzetti) Quotes
There are no approved quotes yet for this movie.