Savages
(1972)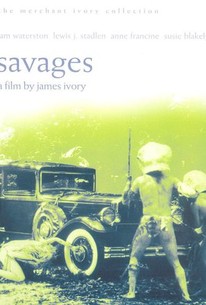 Movie Info
James Ivory wrote and directed this sharp satire that takes a critical look at the true nature of "civilization." The first part of the tale is filmed in black and white and follows a band of barely clad "savages" as they stumble upon an abandoned mansion. Over time they begin to affect the fancy trappings and manners of the former occupants. The film then switches to color. The newly civilized people decide to hold a party and soon it becomes apparent that boundaries between the strong and weak have developed. The strong become powerful and self-serving while the weak become the underdogs. As the gala continues, a breakdown in their genteel veneer begins and in the end they return to their former, simpler lives.
Critic Reviews for Savages
All Critics (5) | Top Critics (1) | Fresh (2) | Rotten (3)
The film, within its own limited and minor ambitions, succeeds admirably.
Feels like lesser Luis Bunuel (or Derek Jarman); it's an intriguing short-film idea stretched out to feature length, worth a glance primarily as an artifact of its time.
the one-joke premise quickly wears thin
June 26, 2004 | Rating: 3/5
Audience Reviews for Savages
½
In "Savages," the Mud People are about sacrifice a human to their gods when they are interrupted by a mysterious round object rolling into their camp. Following it back to its source, they capture a member of a rival tribe. That path leads to a wondrous dwelling, full of shiny objects and furs... Well, you have to admit it. "Savages" is different. And not just because it is a Merchant/Ivory movie about a group of primitives who suddenly find themselves in a Merchant/Ivory film, done in a mixture of styles including silent movies, about a decade before those names became synonymous for politely restrained period pieces.(Added to the chronal displacement is an impossibly young Sam Waterston not playing somebody who pontificates at the drop of a hat.) At least, here the social criticism and satire is less obtuse than usual, especially on the subject of colonialism with a little genderbending thrown in for good measure, along with a special emphasis on the thin line between civilization and savagery. Plus, croquet.
Savages Quotes
There are no approved quotes yet for this movie.