Scrooge
(1935)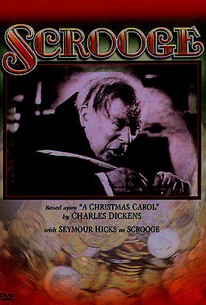 AUDIENCE SCORE
Critic Consensus: No consensus yet.
Scrooge Photos
Movie Info
Starring Seymour Hicks as the title character, Scrooge is a faithful adaptation of the classic Charles Dickens' novel A Christmas Carol about a heartless miser who discovers the true meaning of Christmas when three ghosts visit him on Christmas Eve. Hicks co-wrote the screenplay to this film, which is a thoroughly entertaining and effective retelling of a familiar story
Rating:
NR
Genre:
, , ,
Directed By:
Written By:
In Theaters:
On DVD:
Runtime:
Studio:
Legend Films
Watch it now
Cast
Critic Reviews for Scrooge
All Critics (2) | Fresh (1) | Rotten (1)
A faithful retelling of Charles Dickens's 1843 Victorian classic novella A Christmas Carol.

Ozus' World Movie Reviews
This early sound adaptation of Charles Dickens' immortal A Christmas Carol (1843) is slow in pace and static in execution.
Audience Reviews for Scrooge
The quality of the recording is piss poor making it difficult to watch.....there are much better adaptations.
bill secor
Follows the story closely - there's nothing bad about it per se, but it's so old and bad quality and there's so many versions of this story, that I probably wouldn't watch this again.
Sarah Prisbylla
Super Reviewer
This version of A Christmas Carol probably does not hold up as well as most other versions. But this is still the great story of Ebenezer Scrooge and it still works and gets an emotional response out of the audience, and that's what's always important. I want to begin with probably the most important aspect of any Christmas Carol adaption: the portrayal of Ebenezer Scrooge. What is wonderful about the character of Ebenezer Scrooge is that his arc is so incredibly dynamic, it makes him incredibly interesting to portray and watch portrayed and the different ways actors do it. Seymour Hicks is a great actor when he has a monologue, but he is, unfortunately, not the best at working off other characters. This is an incredibly basic Scrooge performance. He doesn't really give a whole to the character, which is what I would look for. Also, the metamorphosis aspect of the character is really important. Not many actors really put in an effort to show Scrooge changing. I would have liked to see that more; Hicks doesn't quite give us that. I do, however, enjoy his authentic enthusiasm. As for the ghosts, I think this will be a disappointment for a lot of audiences. Of the four ghosts, we only see one in his entirety. The ghost of Jacob Marley we never see at all--we only hear his voice. I'm not sure why the decision was made. The studio seemed to have the resources to superimpose an image of Marley's head onto the knocker for an earlier scene, but we never see the ghost himself. We do hear the voice of Jacob Marley, and that is oddly effective enough. The problem with that scene in particular is the fact that Hicks does not do the best job of reacting off nothing, so his acting feels a bit off. The Ghost of Christmas Past we only see as a blob of light, and the voice is very masculine (even though it's suppose to be a female-like ghost). The Ghost of Christmas Yet To Come we only see as a shadow. And only of its finger. This comes off as really silly since we only ever see the shadow of a finger pointing to the things Scrooge needs to see. We do get a nice sense of mystery around the ghost, but it doesn't quite offset the goofiness of the shadow puppetry. The only ghost we see all of is the Ghost of Christmas Present. Appropriately enough, this is the be best ghost in the film. He's portrayed by a fellow named Oscar Asche. His acting is not very good, but I loved his cheerfulness and playful attitude, especially when he was first introduced. Plus, he looked practically perfect for the part. My favorite portrayed character in this film, however, was Bob Cratchit, played by Donald Calthrop. This guy *is* Bob Cratchit. He not only looks particularly destitute, but acts that way as well. I also enjoyed the way he seemed half afraid of Scrooge. I found him believable and fun to watch. Just as in the 1938 version (which I saw before this one), the ending is what really makes the film work. That's one thing absolutely adore about the story of A Christmas Carol--the payoff is magnificent. I think my favorite moment is a shot where Scrooge is looking at a Christmas tree and we see the faintest hints of tears in his eyes. That's what this film is all about. So, even though this movie has *a lot* of short comings, it still works at the end of the day, and works very well. It's not a must-see, but it's a worthy effort, and any fan of A Christmas Carol should really see it. 6/10
Forrest P
Discussion Forum
Discuss Scrooge on our Movie forum!
News & Features