Blind Terror (See No Evil)
(1971)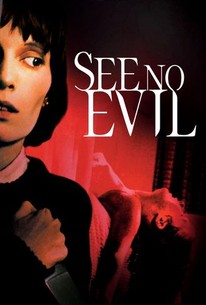 Blind Terror (See No Evil) Videos
Blind Terror (See No Evil) Photos
Movie Info
This riff on Wait Until Dark is a mixed bag but still manages to offer a few surprises. Brian Clemens' script starts off with a clever premise and offers some solid moments of suspense. Unfortunately, See No Evil begins to drift in its final third, when it introduces one too many plot complications to keep the identity of the killer a mystery. As a result, it loses track of its heroine (the viewer will lose track of how many scenes Mia Farrow spends stumbling around and shouting for help during the latter part of the film). That said, Farrow makes a likeable heroine and is surrounded by a professional cast turning in solid performances. Better yet, director Richard Fleischer gets plenty of opportunities to show off his directorial skills during the many setpieces and he's definitely up to the task: the scenes where Farrow faces off with the killer in her deserted house are staged effectively and make great use of sound as a tool for suspense. Ultimately, See No Evil is second-tier thriller material but it is made with enough skill to make a decent time-killer for anyone in the mood for a few thrills.
Rating:
PG
Genre:
, ,
Directed By:
Written By:
In Theaters:
On DVD:
Runtime:
Studio:
Sony Pictures Entertainment
News & Interviews for Blind Terror (See No Evil)
Critic Reviews for Blind Terror (See No Evil)
Audience Reviews for Blind Terror (See No Evil)
Really well done and creepy suspense/thriller from the early 70's. The middle act of the film is the strongest in that it uses small details to slowly reveal what has happened/is happening, while these details go unseen by the blind protagonist.
Paul Cardullo
½
Suspensesful but over-padded killer-thriller about a sleazy madman with a snazzy pair of cowboy boots who stalks and murders a wealthy family in their country home with the exception of the blind niece (Mia Farrow) who is left to survive on her own. It's effectively made with some gripping moments and the faceless killer will leave you guessing his identity till the end. There are some slow moments though and I found the ending a little unsatisfying. On the whole a pretty good thriller that deserves a watch but it's unlikely to appeal to fans of sleaze that like nothing left to the imagination, this is a bit more classy.
The best Hitchcock movie never made by Hitchcock. It is also I think the best movie Mia Farrow ever made. She gives an outstanding and believable performance as a blind girl. While she is out visiting with her boyfriend her family back home is murdered. When she comes home she thinks her relatives are out of the house. In fact they are dead all around the house. It is not until the next day she makes the grizzly discovery of her family being killed. At the same time the murderer realizes he has left behind an important piece of evidence at the house that will connect him to the crimes. Now he has to go back to the scene of the crime to retrieve the evidence and Mia Farrow has to run for her life to prevent becoming the killer's next victim. As the movie progresses the suspense slowing increases. The movie does start a little slow but once you get into the story it does indeed pick up the pace.
Silver Butterfly
Blind Terror (See No Evil) Quotes
There are no approved quotes yet for this movie.
Discussion Forum
Discuss Blind Terror (See No Evil) on our Movie forum!