Shadowlands
(1985)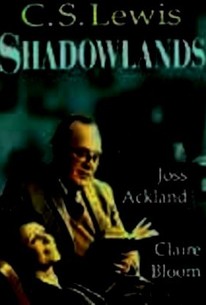 AUDIENCE SCORE
Critic Consensus: No consensus yet.
Movie Info
A real-life incident involving two major literary figures was dramatized for British television in 1985 under the title Shadowlands. Joss Ackland stars as English author C.S. Lewis, who in 1950 begins a correspondence with American poet Joy Gresham, here played by Claire Bloom. Though Lewis is a confirmed bachelor and Gresham is a wife and mother, their long-distance friendship blossoms into something deeper. In 1952, Gresham, newly divorced, moves to England to be nearer Lewis, who has no inclination to marry. A spiritual crisis profoundly affects the relationship--and completely alters Lewis' outlook on life. Shadowlands premiered in America over PBS on October 29, 1986; screenwriter William Nicholson later adapted his script into a play, which was filmed by director Richard Attenborough in 1993, with Anthony Hopkins as Lewis and Debra Winger as Gresham. ~ Hal Erickson, Rovi
Rating:
NR
Genre:
, ,
Directed By:
On DVD:
Runtime:
Critic Reviews for Shadowlands
There are no critic reviews yet for Shadowlands. Keep checking Rotten Tomatoes for updates!
Audience Reviews for Shadowlands
Shadowlands (1985) directed by Norman Stone written by William Nicholson starring Joss Ackland, Claire Bloom This film effortlessly relates the trials and traumas that befall anyone caught up in the agonizing niceties of romantic love. It is a story about C.S. "Jack" Lewis and his life with the American poet Joy Davidman Gresham. It was filmed for BBC Television and released in 1985. At first Jack is a confirmed bachelor. He's a scholar and a teacher who also gives lectures via radio on various religious topics. As the film opens he is speaking about Christian Marriage. The joke amongst his colleagues is that he perhaps isn't the best person to talk about such a thing considering that he himself has never been married. Still, he answers letters and has kept up a correspondence with Joy where he offers up bits of salient advice. Joy decides to visit Jack and brings her two sons, Douglas (Rupert Baderman) and David (Rhys Hopkins). Joy is in the process of divorcing her husband who she claims is both verbally and physically abusive. Jack greets Joy with unbounded enthusiasm. The pair form a tight bond that initially appears for all the world to be nothing more than mere friendship. To ensure Joy's uninterrupted stay Jack agrees to marry her in a civic ceremony. They remain in separate households until Joy falls and breaks her hip while answering a call from Jack. She is hospitalized and diagnosed with cancer. While hospitalized, Jack realizes how intensely he loves Joy and decides to marry her in a proper religious ceremony. A friend of Jack performs the wedding and they return to Jack's house as man and wife. The film is an open wound made terrible by the slow, torturous falling of Joy, who is portrayed in this film as the only woman Jack ever loved. There are many closeups on Ackland's face as grief overtakes his character. Jack is brought to a place of great solace, to such an extent that he sometimes appears hardly able to move. When Joy first comes around, Jack's life is enriched by his lectures, students and his ability to fully engage with his work and study. His emotional life has remained static for a great number of years and he seems to have resigned himself to the edicts of bachelorhood and its incipient loneliness. The sudden arrival of Joy and her sons alters his mind's landscape considerably and he is suddenly thrust into a world of activity beyond the capacity of his mental life. Although this film ably relates the desperation that is a linger effect of any loss, it also celebrates the life of a man whose contribution to letters remains paramount. This is but a chapter in Jack's life and one that most certainly disturbs the well-honed tranquility of his mind. The film suggests quite succinctly that great personal effort as applied to the authorship of various seminal texts can not assuage the searing pain of losing someone once held so close. Still, the great work continues and ironically the only hope for solace remains in the process of creation. Throughout this film, there is a sense of gnawing despair that comes out particularly in the early scenes before Joy. There is something dark and pressing about Jack's mannerisms and how he goes about the business of living his life. As Joy slowly fades, Jack embraces all the fears and terrors that informed much of his previous work and applied it to a physical being whose own terrors and agonies proved to be too formidable to overcome. It's an emotional apotheosis that enables him to get in touch with actual feelings as they apply to the business of living (or dying). Joy did indeed bring a crashing sort of delirium into Jack's life and her presence brought him into a place of great comfort and solace. With her, he was able to feel great pangs of love and respect. Despite all of the grief, Jack retains his faith although he does go through a period of questioning god's methodology for meting out such pain. Josh Ackland is uniformly excellent in his portrayal of C. S. Lewis. He brings a severity to the role which is fleshed out with occasional touches of humor. Jack's presence is formidable throughout the film and Ackland uses posture and gesture to convey a personality of great warmth and depth. It's a loving portrait of a most beloved author and teacher. Claire Bloom brings a boundless enthusiasm to her role as Joy. Her intelligent eyes, always querying, suggest a woman of great subtlety and understanding. She captures Joy's integrity and good cheer despite the agony eating away at her bones. Overall, this film leaves an impression of hope mingled with acute despair. There is a great sadness to this picture but the overall impression is that despite the hell of personal loss, life must and will go on. There's really no choice in the matter for a Christian man whose faith has been the guiding force for so many years. A great disarray is tempered by the arrival of a bright bouquet of flowers unexpectedly delivered from afar. Joy brings Jack into himself. She gives him a brief window of utter happiness, the likes of which he had never truly experienced before.
Everett Jensen
Love stories are a dime-a-dozen these days. Whether they be harlequin novels or sappy romance movies, love stories abound, but very few of them are as deep and selfless as "Shadowlands." In a vast shift from normal Hollywood fare, "Shadowlands" is about C.S. Lewis's brief marriage to Helen Joy Davidman. It's such a unique idea to tell the love story of such a great and Christian man who, before Helen's arrival, was a confirmed bachelor, secure in his singlehood and not prone to romantic aspirations. Here was a consummate logician, firm in his place in life, never expecting nor looking for love. Yet God has a sharp sense of humor, does he not? The film chronicles their relationship from the first, awkward meeting to the tearful farewell. Intimately shot, the scenes feel less like a stage and more as if you're a fly on the wall, experiencing everything with them. Their relationship, though short-lived, is one of the deepest I will ever find in film as well as in life. Who would have thought that Hollywood could actually bring us a model worth emulating? Helen and C.S. were an odd couple from the start, he, the consummate Englishman, and she, the consummate New Yorker, brash attitude and all. Lewis is marvelously played by Anthony Hopkins whose versatility never ceases to amaze me. He can play a psychotic, cannibalistic serial killer in "Silence of Lambs" as adeptly as he can one of the most beloved thinkers in modern Christendom. What talent. Unlike most romance movies I have seen, their love isn't based on physical attraction. They were friends first, lovers later, and even then their love was based on their adoration for each other's character. My only gripe with the film is that they soften Lewis's massive witness and make it more palatable for a wider audience. Their deep and selfless love is remarkable, but what I find even more remarkable is the depth of character Lewis displays when he plumbs his grief after her untimely passing scarcely two years after they wed. This is a love story for all those who have lost one they have held dear.
Erik Kielisch
Shadowlands Quotes
There are no approved quotes yet for this movie.
Discussion Forum
Discuss Shadowlands on our Movie forum!