Shaft
(1971)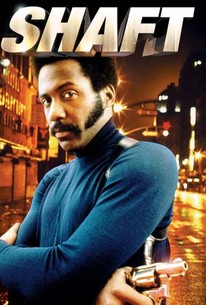 Movie Info
Shaft, a highly successful film, spawned an industry of sequels and imitations. The daughter (Sherri Brewer) of Bumpy Jones (Moses Gunn), a (white) gangster, has been kidnapped by a rival (black) gang. Bumpy hires private detective Shaft (Richard Roundtree) to find her. Shaft gets some assistance from Lt. Androzzy (Charles Cioffi) of the NYPD, who hopes to avoid a gang war, especially one which could lead to open racial warfare. The other person who helps him is Ben Buford (Christopher St. John), a black militant who also wants to avoid race war. Shaft is tough. Shaft is smart. Shaft succeeds. Isaac Hayes won an Academy Award for the title song.
News & Interviews for Shaft
Audience Reviews for Shaft
½
Who's The Man! Commemorating the original SHAFT movie on it's 45th anniversary....Director Gordon Parks' follow-up to his 1969 debut "The Learning Tree" was a stone gritty crime thriller that launched the "blaxploitation" movement and opened doors for other dynamic African-American screen heroes of the 1970's that became the launching pad for Fred Williamson, Jim Brown, Pam Grier, Tamara Dobson and more. In some ways the motion picture SHAFT was blaxploitation cinema at its best that was phenomenol beyond belief when this came out in 1971. SHAFT was indeed a simple story with a timely take on the standard private detective formula. Here is a private detective who answers to no one, makes up his own rules,intelligent, fast to act when the situation calls for it with his gun and his fists--always direct and true to himself and he is nobody's "boy". SHAFT when it came out in 1971 broke racial barriers where in motion picture history audiences got to see a strong black man in a truly heroic role without the props of a white liberal social blather,and without being a borderline criminal. He is an African-American reference that is part Robert Mitchum, part Humphrey Bogart, part James Bond, part Steve McQueen and part Clint Eastwood. With a electrifying and riveting screenplay by Ernest Tidyman(based on his novels of John Shaft),the stunning debut of actor Richard Roundtree not to mention one of the great opening musical themes in motion picture history from the legendary Issac Hayes(who won the Oscar for Best Original Score for a Motion Picture)...SHAFT was a huge runaway boxoffice hit when it came out during the Independence Day weekend of 1971 (Released on July 3, 1971). The film was a enormous success--one of only three profitable movies that year for Metro-Goldwyn-Mayer. On a budget of $1.1 million the film did astounding business during its Independence Day opening in 1971 grossing $13 million at the boxoffice in the USA, taking in $7,100,000 in North American rentals and taking in an estimated $23 million worldwide. It earned another $7,656,000 in North American rentals in 1976 when it was re-released back in theaters by MGM. The success of SHAFT spawned two sequels("Shaft's Big Score" in 1972 and "Shaft In Africa" in 1973) in which both films were nowhere as successful as the original. SHAFT also had a short-lived television series not to mention John Singleton's 2000 remake of the same title with Samuel L. Jackson in the title role where Richard Roundtree made a cameo appearance. The overall success of SHAFT in 1971 was a milestone in African-American cinema when it came during the extreme social unrest in America not to mention the escalating matters of the Vietnam War where you have an African-American hero standing up and fighting for what's right by using his private detective status and his ethnicity to bring down the Mafia and other criminal lowlifes in order to risk his neck for his "brother man". Roundtree's performance carries the film throughout with non-stop thrills and some impressive action packed scenes that were the basis of what was to come in "black action cinema" throughout the decade of the 1970's . SHAFT even after 45 years continues to stand tall for many generations to come. rayman007@hotmail.com
Mister Caple
Super Reviewer
This was my first foray into the world of blaxploitation and boy was it an interesting experience. I can see why it was well received in it's day by both black and white viewers. Not only does it fulfill every preconceived notion that potential white viewers may have had about African-Americans, but it also is a movie very focused on blackness. Hell, in one scene Shaft's coffee isn't even black enough for him. It is infuriatingly stereotypical and empowering all at the same time. While this film does feature some rather interesting direction and a fairly engaging story, you cannot help but be mostly entertained by it's charming anachronisms. I mean where else are you going to find classic lines such as: "You got problems, baby?" "Hehe. Yeah, I got a couple of 'em. I was born black... and I was born poor."
Private eye John Shaft is hired by a crime boss to find his kidnapped daughter and gets caught up in a war between Harlem gangsters and the mafia. Shaft is the original "Blaxploitation" film, but as is always the case with progenitors of an entire genre it is actually rather tamer than you'd expect. It's certainly an exploitation film, but the violence never crosses the line into excess and Shaft is shown to be a tolerant and fair-minded man (no signs of the appalling sexism and homophobia that went on the taint this type of film). It's no surprise that Richard Roundtree was an icon to young black men in these post civil rights movement years; he is tough, stylish and never without the attention of women or money but more importantly, he is totally self-assured, fearless and not only doesn't take any shit from "the man", he is accepted and respected by all concerned. Taken out of context, it's a fairly standard 70s detective story, the real reason it stood out from the crowd being the fact that all of the heroes are black and Isaac Hayes' classic soundtrack. The humour is a little weak and lowbrow and there are a couple of hilariously pointless love scenes but as a whole it's a stylish and efficient thriller that is no world changer, but never disappoints either.
Shaft Quotes
| | |
| --- | --- |
| Sgt. Tom Hannon: | Where the hell are you going? |
| Shaft: | To get laid. Where the hell are you going? |