A Shock to the System
(1990)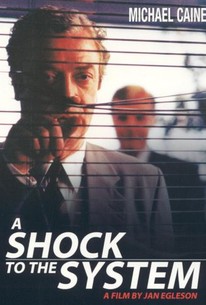 A Shock to the System Videos
A Shock to the System Photos
Movie Info
In this black comedy, middle-aged advertising executive Michael Caine loses his long-awaited promotion to a younger man. In frustration, Caine accidentally pushes a panhandler in front of a subway train -- and he gets away with the death. He then begins plotting the murder of several of his corporate enemies.
Critic Reviews for A Shock to the System
All Critics (13) | Top Critics (3) | Fresh (10) | Rotten (3)

A Shock to the System shows what happens in the office when cutthroat competition becomes the norm.

Spirituality and Practice
Okay black comic thriller. Nothing too special.

Mountain Xpress (Asheville, NC)
Audience Reviews for A Shock to the System
½
(*** 1/2): [img]http://images.rottentomatoes.com/images/user/icons/icon14.gif[/img] A well-acted black comedy.
TTT C
With Michael Caine it's hard to not like this film. This one was funny, sublime, mysterious, devilish too. Worth watching, it's well paced and well done all around. All seen through the eyes of Caine and sometimes narrated as well. My how far Hollywood has come, the killer gets away with it, murdering his wife, his boss, a begger, and at the end somebody else not quite sure whom. The title to me was not nearly as creative as it should have been. Its too long a phrase. Simply SHOCK would have been good enough. [img]http://t0.gstatic.com/images?q=tbn:ANd9GcRCxgtg-ShEX5gU8TzrNkHidezJjo0F7Uvn2cvfJy52E8E1Fws5aw[/img] To lose your great job, now that's a shock to the system. To lose a promotion to a younger executive, that's just, shall we say, demorilizing. Michael Caine delivers just another fine performance that carries the entire film. Its not real credible that several murders take place without so much as a pause but that is just it, Caine is Merlin who does as he pleases and gets away with it! [img]http://t3.gstatic.com/images?q=tbn:ANd9GcTKSt9lSci7xy7d93EUczFJlmQ05qyLKX90QUG8jfU84mjUaExx[/img] Like Merlin the Magician, Caine goes PUFF..and their gone.... like dead gone No ordinary film, this one went from light comedy to dark comedy in a half hour. But the corporate world Caine lives in after his loss of promotion is destabilizing to himself. He has a volcanic temper and displays it convincingly when he confronts his former co-worker turned superior. To see the entire film, link to this: http://www.youtube.com/watch?v=aPIAYyRwlHs Reviews from the unpro's: 70% The greatness of this film lies not with its story, but with the brilliant performance of Michael Caine. In my opinion, this is one of his best, 60% "A Shock to the System" is a confused little film with no idea whether it wants to be comedic or serious somehow managing to be mediocre on both elements... 100% If you like black comedies, and Michael Caine, and you come across this one, rent it! [img]http://t3.gstatic.com/images?q=tbn:ANd9GcRAuF1HGG2R5hRItQBGwr3CedoQa9wiywaR5Q-YeYHTr-0s_KIAfA[/img] The persistant detective gets nowhere here [img]http://t2.gstatic.com/images?q=tbn:ANd9GcSGWQqcqIOCGGIK1-3AaQd3N2KZ6npIqMhZDNHMJXO7KvCqOnsH[/img] The boss gets his last view of life here
monsieur rick
½
Hello my RT friends, I thought I'd write a review today since I'm sitting here bored to death on the East Coast looking out the window waiting for this winter storm to begin. So I decided to write about a great little film that maybe not too many of u have seen. I first saw this film many years ago & Ive always enjoyed seeing it again & again. This film stars one of my all time favorite actors, Michael Caine in one of his best performances. Here's a summary: Graham Marshall (Michael Caine) is anxiously anticipating a promotion where he works as an advertising executive, when he learns that Roger Benham (Peter Riegert), one of his subordinates, will be given his promotion & thus becoming his boss. As u can probably guess he is very angry at the outcome. He's also very frustrated about his life that he hates & that nothing will ever change so he begins to plot & scheme to take bloody revenge on every person who humiliated him & that stands in his way of getting whatever he wants-beginning with his annoying wife Leslie (Swoosie Kurtz). Michael Caine was perfect for this role. He made me feel very uneasy whenever he was onscreen. This film shows the audience why he is an outstanding actor. He can play being bad look so effortless. The supporting cast is also very good in their roles. There are some great twists & turns. I couldnt wait to see what was peeking around the next corner. This movie is considered mystery suspense but there is also some black comedy mixed in too. There's a scene in this film when Graham receives a call with bad news & he says without skipping a beat "Oh my God, what a shock." If youve seen the film then u know why that is a very funny line. I highly recommend this great little movie. I hope u enjoy it!! Now, I ask u, what would u do if u were in a situation such as this? As u know there is a dark side to the business world.
leeloo 1967
A Shock to the System Quotes
| | |
| --- | --- |
| Graham Marshall: | I will try and put this as politely as possible, Henry. What the fuck are you doing in my office? |
Discussion Forum
Discuss A Shock to the System on our Movie forum!