Show Boat
(1951)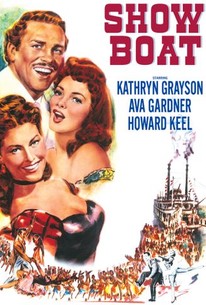 Movie Info
The third and (to date) last film version of the Edna Ferber/Jerome Kern/Oscar Hammerstein II musical +Show Boat falls just short of greatness but is still a whale of a show. Howard Keel and Kathryn Grayson are in fine fettle as irresponsible gambler Gaylord Ravenal and showboat ingenue Magnolia Hawks. The plot adheres closely to the Broadway original making several welcome improvements in the final act (which was always a bit shaky). Magnolia, daughter of showboat impresario Captain Andy (Joe E. Brown) and Parthy Hawkes (Agnes Moorehead), falls head over heels in love with the raffish Ravenal. When the show's leading lady, Julie (Ava Gardner), and leading man, Steve (Robert Sterling), are forced to leave when Julie's mulatto heritage is revealed by disgruntled suitor Pete (Leif Erickson), Magnolia and Gaylord step into the vacant stage roles and score a hit. Eventually, the two are married and for several months are quite happy. After incurring serious gambling losses, however, Gaylord walks out of Magnolia's life never realizing that his wife is expecting a baby. With the help of her former showboat colleagues Ellie and Frank Schultz (Marge and Gower Champion) and a behind-the-scenes assist from the tragic Julie, Magnolia secures work as a Cabaret singer in Chicago. Her new year's eve debut threatens to be a bust until her father Captain Andy quells the rowdy crowd and guides his daughter through a lovely rendition of After the Ball (a Charles K. Harris tune that pops up in every stage version of Show Boat). Magnolia returns to her family, with her daughter Kim in tow. Upon learning from Julie that he has a daughter, Gaylord returns to Magnolia and Kim, setting the stage for a joyous ending. Virtually all of the Kern-Hammerstein songs are retained for this version of Show Boat (though none of the songs specially written for the 1936 film version are heard). These cannot be faulted, nor can MGM's sumptuous production values. Still, the 1951 Show Boat leaves one a bit cold. Perhaps it was the removal of the racial themes that gave the original so much substance (as black stevedore Joe, William Warfield exists only to sing a toned-down version Ol' Man River while Joe's wife Queenie is virtually written out of the proceedings). Also, MGM reneged on its original decision to cast Lena Horne as Julie; the role was recast with Ava Gardner and rewritten with an excess of gooey sentiment). Or perhaps it was the production's factory-like slickness; typical of the film's smoothing out of the original property's rough edges was the casting of Marge and Gower Champion, who are just too darn good to be convincing as the doggedly mediocre entertainers Frank and Ellie. Even so, Show Boat does have Howard Keel and Kathryn Grayson at their peak, not to mention the peerless Joe E. Brown as Captain Andy. And the film was a financial success, enabling MGM to bankroll such future musical triumphs as Singin' in the Rain and Seven Brides for Seven Brothers.
Rating:
NR
Genre:
, ,
Directed By:
Written By:
In Theaters:
On DVD:
Runtime:
Studio:
MGM Home Entertainment
Critic Reviews for Show Boat
Audience Reviews for Show Boat
½
MGM's loving, lovely Technicolor adaptation of the groundbreaking stage musical retains most of Jerome Kern's music and strengthens the role of Julie, poignantly played by Ava Gardner; William Warfield also does well singing "Ol' Man River."
Michael Troudt
Mostly a mediocre musical film, but there are some moments of absolute brilliance. The cinematography deserves some recognition, particularly the scene with William Warfield singing "Ol' Man River". It wasn't too far from being a good movie, but I got bored at times. (First and only viewing - 10/9/2013)
Adam R
This film just screams bloated. Every thing about this film is over the top. I haven't even seen the entirety of the 1936 film and I like it better. I give it two stars for Howard Keel and that the material itself is so good that it shines through the circus.
Garrett Cash