Sinbad the Sailor
(1947)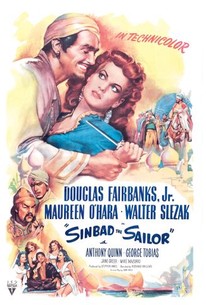 Sinbad the Sailor Videos
Sinbad the Sailor Photos
Movie Info
In the RKO swashbuckler Sinbad the Sailor, Douglas Fairbanks Jr. nostalgically emulates his famous father. The first seven voyages of Sinbad have come and gone: now he is on an eighth mission, in search of the island where Alexander the Great allegedly hid his treasure. Participants in the proceedings are the incredibly gorgeous Maureen O'Hara as a feisty princess, Walter Slezak as a duplicitous green-skinned barber, George Tobias and Mike Mazurki as two of Sinbad's faithful seamen, and Anthony Quinn as the villain of villains, who meets a suitably fiery demise. If the plot seems well nigh impossible to follow at times, you can always wallow in the splendiferous Technicolor and the eye-popping stunt work of Douglas Fairbanks Jr. (and, it must be admitted, his uncredited stunt double). Budgeted at nearly $3 million, Sinbad the Sailor was one of the few postwar RKO flicks to post a profit.
Rating:
NR
Genre:
, , ,
Directed By:
Written By:
In Theaters:
On DVD:
Runtime:
Studio:
RKO Radio Pictures
Cast
Critic Reviews for Sinbad the Sailor
Audience Reviews for Sinbad the Sailor
Sail with me An old and aging Sinbad who has retired from the adventure way of life tells his tails to a group of other old and dying men. The men are sick of hearing the same old seven tales of Sinbad that seem to get more ambitious with each telling...so Sinbad tells them a less told tale of his adventures. "All the seven voyages are magnified." "Why not astonish? Sinbad is an astonishing sailor!" Richard Wallace, director of The Young in Heart, The Fallen Sparrow, Tycoon, Framed, Adventure in Baltimore, A Kiss for Corliss, The Road to Reno, and Captain Caution, delivers Sinbad, The Sailor. The storyline for this picture has a classic Sinbad feel to it with awesome settings and costumes, pretty girls, and unearthly adventures. The acting is very solid and the cast includes Douglas Fairbanks, Maureen O'Hara, Anthony Quinn, Jane Greer, and George Tobias. "The sun is my gold." I recently came across this on Turner Classic Movies (TCM) and had to DVR it as a huge Sinbad fan. This was very well done and I enjoyed the feel and pace of the film. This was far from the best Sinbad picture, but it was worth a viewing. "It's a fine day for the coffin makers." Grade: C+
Kevin Robbins
½
a technicolor fantasy spectacle with douglas fairbanks jr giving his usual energetic performance in the title role. the sets and costumes here are slightly ridiculous and maureen o'hara doesn't look remotely like a middle eastern princess but it's all in good fun and walter slezak is highly entertaining as the villainous jamal. altho the acting is somewhat better here i miss harryhausen's amazing claymation creatures from the 70's
Stella Dallas
Super Reviewer
½
another flick based upon the prestigious arabian nights, and this time our swashbucking hero would be douglas fairbanks jr. who resurrects the archetyped glory of the first swashbuckler king douglas fairbanks sr. who ruled hollywood in the prosperous silent period. the tale is a fictional improvisatory tale on the eighth voyage of singbad discovering his royal heritage of gold treasure and an adventurous conquest of a iceberg queen-to-be. the palette of this flick is drenched in vivid colorfulness which transmutes an aura of gaudiness that takes some screen time to adapt into such blistering nuance, and such sharpness is manifested from the constumes of fairbanks toward the artificial blue sky. since it was one of the pioneering attempts of techicolor craftmanship, naturally it had some idiocyncrasy of experimental primitiveness. fairbanks' exhilaratingly dramatic performance also consumes some screen time to get customed into, and at the start his mischievousness borders on being histrionic, then later it emerges toward the surface that it is a swashbuckler flick! certainly all the characters have a particularly peculiar mode to conduct in those stereotyped roles, and fairbanks only enhances that legendariness as some relish, besides his sunny wide smile resminiscence fairbanks sr. who always gives his classic pirate grins. maurean o'hara is ravishing enough to always cast as any role of love interest. about the machurian-looking villain, evil jarmal, is played by german actor walter slezak who is also marvellously insidious in hitchcock's "lifeboat" as nazi. this time, he has a merchurian albony head which resembles ancient crooked chinese, and he still remains riveting in an eccentric role in such absurd scenario and laughable constume. "sinbad the sailor" is only second to conrad veidt's "thief from bagdad" which is so far the best swashbuckler in the backset of arabian nights, and the dashing male beauty of fairbanks jr. would be also eye candy for ladies in such lush old-hollywood production.
Veronique Kwak
Super Reviewer
Discussion Forum
Discuss Sinbad the Sailor on our Movie forum!
News & Features