The Spiral Staircase
(1975)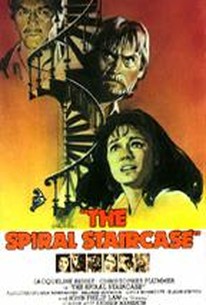 AUDIENCE SCORE
Critic Consensus: No consensus yet.
Movie Info
This made-for-television remake of a taut thriller from 1946 concerns a small-town psycho stalking disabled female victims, whom he shoots with a silencer pistol. His next intended prey is a poor young woman who cannot speak. ~ Sandra Brennan, Rovi
Rating:
NR
Genre:
,
Directed By:
In Theaters:
On DVD:
Runtime:
Critic Reviews for The Spiral Staircase
All Critics (3) | Fresh (2) | Rotten (1) | DVD (1)

Audience Reviews for The Spiral Staircase
½
[size=5][b]The Spiral Staircase[/b][/size] Directed by: Peter Collinson [img]http://www.1stvideo.com/VHS/65/101365.jpg[/img] I haven't seen the original, I just saw the tape lying around and thought it looked decent, it wasn't till I was already watching this I found out it was a remake. Anyhow, it makes me curious to see the original. This film has a lot of elements of a good film, classic (if overdone) story, great sets, above average cast, good visual style, etc. However, the movie has very little atmosphere beyond the visuals, and absolutely no suspense at all. None. The last few minutes have a little bit of 'Huh, I wonder how this is gonna turn out', but that's as much as it goes. It just never builds it. I attribute it mostly to poor directing, although I can't put my finger on what it's missing. I really liked the sets on this movie, and the visual style is really pretty strong. This has all the makings of a good movie and just doesn't come thorugh. I wonder if the original does? [size=4][i]5.0[/i][/size] [size=5][b]Power[/b][/size] Directed by: Sidney Lumet [img]http://cover6.cduniverse.com/MuzeVideoArt/62/138062.jpg[/img] I had high hopes for this movie about politics, especially after seeing Lumet's wonderful film from a few years earlier, "The Verdict", and of course much earlier, "12 Angry Men". If he did for electoral politics what he did for the courtroom process, this would be a spectacular film. Ultimately...it doesn't live up to it's potential. It's far from a bad film, and it does a fair job representing the world of political campaigns and consultants and such, but it unfortunately doesn't do what most of the best films about such things do, it doesn't focus on characters beyond the topic at hand. The Verdict is a great film not because it's a great courtroom drama, it's a great courtroom drama because it's a great film. This one gets it backwards. It's much better then most films on politics, such as the abyssmal "The Contender," which is laughable to anybody who really follows or works in politics, most of the things that happen in the film are at least plausable and fairly realistic. It does give way to unearned and misplaced sentimentality right before the end of the film, but pulls back somewhat in the final few minutes, which just made me wonder why it had to go there in the first place. Still, while the rest of it is good on the surface, (good acting, decent script, good directing style) it never has enough character development to really make an impact. Gene Hackman, playing a political consultant who's the more ideolistic teacher of the now totally cynical Richard Gere, is the only character in the film that doesn't seem like a stereotype. I enjoyed this mostly because it's one of the few political films that understands politics at all, and, for the most part, doesn't condencendingly judge them from above. That said, this limits it to being a good political film. If it had been a good film first, it might have been a great political film. Instead, it languishes in the never ending sea of decent-but-unremarkable films that miss the mark. [size=4][i]6.5[/i][/size]
Cliff Smith
The Spiral Staircase Quotes
There are no approved quotes yet for this movie.