The Spoilers
(1942)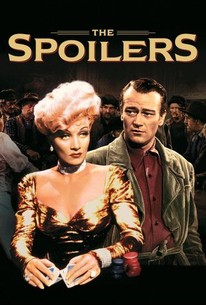 AUDIENCE SCORE
Critic Consensus: No consensus yet.
Movie Info
The fourth of five movie versions of the rugged Rex Beach novel of the same name, 1942's The Spoilers stars Marlene Dietrich, John Wayne, and Randolph Scott. The plot, involving the cheating of Alaskan gold rush prospectors by a crooked gold commissioner, requires that Scott play a villain, Alexander McNamara. Prospector Roy Glennister (Wayne) is continually persecuted by McNamara, who has the law on his side, until the two decide to settle their dispute man-to-man in a spectacular reel-long fistfight. La Dietrich plays saloon-hall gal Cherry Mallote, who becomes the romantic bone of contention between Glennister and McNamara. William Farnum, who played John Wayne's role in the original 1914 filmization of The Spoilers, plays a key supporting role in this remake; also on hand in a cameo is poet Robert W. Service, of The Shooting of Dan McGrew fame. Listen for a cute inside joke at the beginning of the picture, invoking the name of co-producer Lee Marcus. ~ Hal Erickson, Rovi
Rating:
PG
Genre:
, , ,
Directed By:
Written By:
In Theaters:
On DVD:
Runtime:
Studio:
Universal Pictures
Critic Reviews for The Spoilers
All Critics (3) | Fresh (3) | Rotten (0) | DVD (1)
Rough and tumble John Wayne flick highlighted by brawl with Randolph Scott.

This Alaskan adventure is the fourth film version of the popular 1906 book and the second pf three teamings of John Wayne with Marlene Dietrich.

Marlene couldn't be sexier, wearing brocades and gowns, changing from one gown to another at the drop of a beer stein.

Ozus' World Movie Reviews
Audience Reviews for The Spoilers
½
Cherry Malotte. You don't forget a name like Cherry Malotte. There was a character named Cherry Malotte in a flick I watched about 6 months ago called THE SILVER HORDE (1930) and I thought THE SPOILERS might be a remake of that earlier film. Oh...it's a remake all right...but not of THE SILVER HORDE. Surprisingly, this 1942 version just happens to be the 4th remake of THE SPOILERS!!! There would be another version yet again in 1955. A little googling tells me that the character of Cherry Malotte was the creation of one Rex Beach - who wrote the novels THE SILVER HORDE and THE SPOILERS. Beach is all but forgotten these days but his novels were once very popular at the turn of the century. THE SILVER HORDE was filmed twice - 1920 and 1930. The first of five versions of THE SPOILERS in 1914. I mention this because a character like Cherry Malotte - who is a lusty, tough talking, self-assured woman - but with a heart of gold is a staple in westerns. From Joan Crawford's Vienna in JOHNNY GUITAR to Miss Kitty from TV's GUNSMOKE. I'm willing to bet that since Cherry Malotte has been around on the silver screen since 1914 - she may just be the model upon which those other tough talkin' western ladies are based. Marlene Dietrich plays Cherry Malotte in this 1942 version...and she just looks marvelous all dressed up in the different costumes here. Cherry is the saloon owner in gold rush era Nome, Alaska. Lawlessness is rampant despite the town's sheriff. Fistfights and gunfights are how arguments are usually settled. Many folks have come to Alaska seeking their fortune in gold. Others have come to prey on the miners - namely "claim jumpers" - who swindle or rob miners of their rightful claims. The smooth talking swindler is Alexander McNamara (Randolph Scott) - jeez what a sleazebag he is in this. But he may have met his toughest match in Roy Glennister (John Wayne), co-owner of a prosperous goldmine with his partner Al (Harry Carey). McNamara has his sights on jumping on Glennister's claim (he has "legal documents") and has even brought a judge with him. Judge Horace Stillman (Samuel Hinds) has come to Alaska with his pretty niece, Helen (Margaret Lindsay). The arrival of the judge's niece, Helen sets up one of two love triangles that develop in this story. Theres Cherry/Roy/Helen. There is also Roy/Cherry/Bronco. Bronco manages Cherry's saloon and is played by actor Richard Barthelmess in (surprisingly) one of his last roles. Barthelmess had been around since the silent film era (he played opposite Lillian Gish in the 1919 drama BROKEN BLOSSOM) but the sound era was not kind to his career (refer to his bio for more details.) Anyway,,,there is a LOT of testosterone driven action in THE SPOILERS (this is definitely the opposite of a chick flick) as likewise in evidenced in THE SILVER HORDE btw (refer to my review). I think this is a very typical John Wayne performance. He displays his usual mannerisms here which climaxes to a big time brawl with Randolph Scott. Saloon windows get smashed - guaranteed!!! Pop some popcorn and enjoy! 7
bernard anselmo
6.5/10. Solid western, helped tremendously by Marlene Dietrich's presence. Great supporting cast, great costumes, the score is uneven, but tends to be over done. John Wayne is in the same character he always plays. No much range there.
James Higgins
Average western put over by its stars. Marlene Dietrich is the most glamourous saloon keeper you'll ever see and John Wayne is young and handsome.
The Spoilers Quotes
There are no approved quotes yet for this movie.