State Fair
(1962)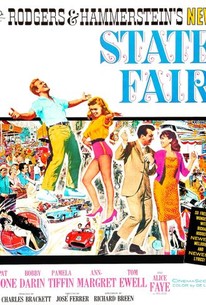 Movie Info
This is the third time around for the Rodgers and Hammerstein musical. The action takes place in urban Texas instead of the traditional setting in rural Iowa. This film version contains five extra songs written exclusively by Richard Rodgers. Box office results were adequate at best, and movie going public deemed this version the least interesting of the three. The youth audience was lured by the casting of Ann-Margaret, Pat Boone and Bobby Darin. Alice Faye returned to the big screen after a sixteen year absence as Melissa Frake. Tom Ewell plays her husband, Abel. The plot finds a family traveling to Dallas for the Texas State Fair. Singing commences on the ferris wheel, the merry-go-round and in other locales. The only real action is the anticipation of a drag race between Wayne (Pat Boone) and the carrot topped, malevolent motorhead Red (Edward "Tap" Canutt).
Rating:
NR
Genre:
,
Directed By:
Written By:
In Theaters:
On DVD:
Runtime:
Studio:
20th Century Fox Film Corporation
Critic Reviews for State Fair
All Critics (7) | Fresh (1) | Rotten (6) | DVD (3)
Try the 1945 if you have to have a musical. Otherwise, try the 1933 Will Rogers picture

Mountain Xpress (Asheville, NC)
Palid remake of two great films, but Ann-Margret is vavoom enough for three stars.

Movie Mom at Yahoo! Movies
Audience Reviews for State Fair
½
The acting was deplorable, even for 1962 standards. The 1962 version of the Rogers & Hammerstein musical is one of the absolute worst musicals I've ever seen. This is especially true when one compares it to the innocence that was the original film. What sticks out the most about this film is the acting. I really am hard pressed to find acting this bad in film. Whereas in the original film I could tell that the actors were having a lot of fun with the material, I never got that feeling while watching this movie. The audience can only have as much fun as the actors and at times that can make up for a lot of faults (I look at the original film or movie like Rocky Horror Picture Show or Twister as examples of this). But in this film, I wasn't sure if they were trying too hard or not hard enough, but it just was not working from the word "go." How about the songs, potentially the most important part of any musical? They were not staged well at all. A turn-off for me when it comes to musicals happens when a majority of the songs happen with the characters just standing there singing. That's not exciting. That's not even mildly interesting. It's dull. It's not stimulating and it doesn't help matters when the characters are about as lifeless as wet cement. Characters should be fun to watch. Good characters should make the audience want to keep seeing the film no matter what happens. Good characters are what movies are all about. We should root for them and want them to succeed or love to hate them. Anything. The three biggest things that can go wrong with characters are that either they are stock characters, dull or lifeless characters, or characters with unintentionally bad personalities. This remake of State Fair has all three. They took the original charming characters and turned them into unlikable dullards. Our lead female is suppose to fall in love with a "charming" tv personality, but the character comes off as rude, obnoxious, pretentious, and fairly overbearing. How is an audience suppose to be invested in a love story when the female is a bore to watch and the male has all the charm of a screaming child in a tar pit? Love stories only really work when the audience falls in love with the characters who are falling in love. I guess I need not say it, but that doesn't happen here. On top of all that, I noticed that the updated version decided to sell its film with sex. Oh, not outright, you understand. The sex is snuck in there with hinting and risqué dance sequences by the (really attractive) female love interest. This was still done at a time when sex in film was heavily frowned upon, but the fast cars, alcohol-related humor, and burlesque-style dance sequence give an idea of the new target audiences the filmmakers were expecting to gain with the film's "updates." So, no, I did not like the remake of State Fair. In fact, it makes me appreciate the innocence and charm of the original film even more. I would even go on to say that I hated this film, which is quite unfortunate, considering the original's charming qualities. 3/10
Forrest P
THIS IS THE THIRD VERSION OF STATE FAIR, AND BY FAR THE WORST. I CAN NOT THINK OF ANYTHING MORE NAUSEATING THAN PAT BOONE. THE SONGS ARE BAD, THE ACTING IS POOR, IT IS A MESS.
James Higgins
State Fair Quotes
There are no approved quotes yet for this movie.
Discussion Forum
Discuss State Fair on our Movie forum!