Stranded
(1987)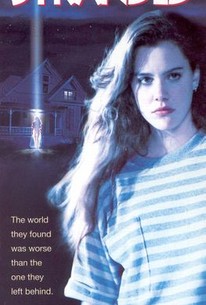 AUDIENCE SCORE
Critic Consensus: No consensus yet.
Movie Info
Aliens from outer space land in rural North Carolina and take the teenage Deirdre and her grandmother Grace Clark hostage in this sci-fi fantasy. Trapped in their remote farmhouse, the two women find themselves in the middle of a gun battle when some good-old-boy rednecks come to oust the aliens.
Audience Reviews for Stranded
½
[size=5][b]Cleo from 5 to 7[/b][/size] Directed by: Agnes Varda [img]http://images.amazon.com/images/P/0780023234.01._SCLZZZZZZZ_.jpg[/img] This was a good movie. I'm not sure quite how good, but pretty good anyway. I really liked the characters, Varda does a good job at seeing behind a person's eyeballs in a way similar to Antonioni, although the tone of the film is totally different then Antonioni. Anyhow, the acting is [size=2]good[/size], the on-location settings were lots of fun, I liked the car trips, they were inventive. Anyhow, there were some scenes that I thought clearly worked better then others, and there was one or two supporting characters I didn't really like, and I also didn't really have anything to really fall in love with in this movie, but it was a solid piece of French New Wave. [i][size=4]8.0 [/size][/i][size=4][b][size=5]Stranded [/size][/b][size=5][size=2]Directed by: Tex Fuller [img]http://images.rottentomatoes.com/images/movie/coverv/87/129887.jpg[/img] [/size][/size][/size][i][size=4] [/size][/i][size=4][size=2]This 80's low-key sci-fi flick has a neat atmosphere to start it off, and does a halfway decent job at executing it's low-concept premise that I can't say I didn't essentially enjoy watching it. I like the 80's vibe and am a sucker for B horror/sci fi, especially with cheezy 80's atmosphere music. At the same time, it's got some really terrible secondary characters and the end was kinda weak. Take it or leave it. You get what you pay for. [size=4][i]5.5[/i][/size] [size=5][b]Munich (2nd viewing)[/b][/size] Directed by: Stephen Speilberg [img]http://www.movie-2-dvd.org/munich-1972/poster.jpg[/img] I've spent a lot of time debating exactly what this film means and doesn't mean. A second viewing really just made it more confusing. But I mean that in a good way. Speilberg does a very good job at presenting some tough questions in a manor that, while clearly colored by his own views, doesn't preach or draw easy conclusions, but invites a thoughtful viewer to examine and think about those issues. Excellent film. [size=4][i]9.5[/i][/size] [/size][/size]
Cliff Smith
Stranded Quotes
There are no approved quotes yet for this movie.
Discussion Forum
Discuss Stranded on our Movie forum!