The Three Musketeers
(1973)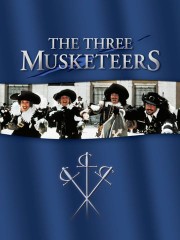 The Three Musketeers Trailers & Photos
Movie Info
Richard Lester's adaptation of The Three Musketeers was only the latest of many when released in 1974, but it arrived with a spirit all its own, one influenced as much by Lester's '60s work as the Alexandre Dumas classic. Even so, it followed the plot of Dumas' novel fairly closely, its liberties in interpretation taken elsewhere. Coming off the success of Cabaret, Michael York plays D'Artagnan, the provincial, would-be swashbuckler who travels to Paris to make his name. There he encounters the eponymous heroes: cynical Athos (Oliver Reed), dashing Aramis (Richard Chamberlain), and arrogant Porthos (Frank Finlay). The trio introduces him to the world of court intrigue as they work to protect the Queen (Geraldine Chaplin) from the schemes of the villainous Richelieu (Charlton Heston) and his followers, Rochefort (Christopher Lee) and Milady (Faye Dunaway). Lester shot the film in conjunction with its sequel, The Four Musketeers. Originally intended as a single film, the split prompted a lawsuit from the cast demanding payment for both films. ~ Keith Phipps, Rovi
more
Cast
News & Interviews for The Three Musketeers
Critic Reviews for The Three Musketeers
Audience Reviews for The Three Musketeers
Great fun! Remembering Michael York with his impossibly sexy face, Oliver Reed, Charlton Heston, Raquel, Richard Chamberlain, Faye Dunaway with her shaved off eyebrows (what's with that anyway?) and others who looked familiar but I couldn't place...anyway, it was a lot of fun to see it on DVD in my own private bed because there is absolutely nothing to see in the theatres...booooooo! Am I going to have to go out to Hollywood and give them some real story ideas? Where was I? Oh,yeah, it was beautiful to look at, action-packed, everyone getting swords stuck in them but getting up as if nothing had happened...they don't make em like they used to!
Bathsheba Monk
Super Reviewer
½
A young peasant eager to join the Kings' Musketeers falls foul of the scheming Cardinal Richelieu and his men while attempting to save the Queen from public scandal. One of the defining adaptations of Dumas' classic story, The Three Musketeers is a light hearted swashbuckler that was the Pirates Of The Caribbean of its day. A fantastic cast and attention to detail make for a highly characterful adventure full of old school charm and humour which was a million miles away from the period films of the time which were all so po-faced they tended to feel more like animated museum exhibits than entertainment. The Musketeers were not shown as infallible superheroes but clumsy brawlers who were just as apt to fall on their backsides or run away as a certain pirate we all know and love. Oliver Reed, at his most charismatic is the pick of a hugely appealing cast and there are a lot of laughs in the action sequences that are as much about slapstick as swordplay. On the downside, it all seems a little slight by today's standards, probably because it is only the first part of a two part story, concluded in The Four Musketeers. The plot and characterisation take a back seat to the gags so there is little in the way of dramatic weight but this was addressed in the darker sequel that was even better. A minor classic.
Discussion Forum
Discuss The Three Musketeers on our Movie forum!
News & Features