Hets (Frenzy) (Torment)
(1944)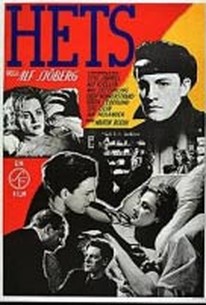 Hets (Frenzy) (Torment) Photos
Movie Info
The Swedish-language picture Torment (AKA Hets, 1944) marked one of the first credited screenwriting efforts of the then 26-year-old scenarist Ingmar Bergman, and one of the broadest international successes of the gifted Swedish director Alf Sjöberg; it also launched the onscreen efforts of two young Scandinavian actors, Alf Kjellin and Mai Zetterling. This tragic drama concerns the ill-fated romance between student Jan-Erik Widgren (Kjellin) and Bertha Olsson (Zetterling), a slightly older, alcoholic widow who works at a tobacco store, and whom Jan-Erik meets when he discovers her unconscious in the street. The premise of the film finds Jan-Erik struggling valiantly to maintain his ongoing sexual affair with Bertha, while grappling, on the side, with the machinations of a sadistic and abusive professor, Caligula (Stig Jarrel. Events take an ugly turn when Jan-Erik discovers that Bertha is actually Caligula's lover - setting the stage for tragedy on the night of her booze-soaked orgy with the old man. Ultimately, both lovers are relentlessly victimized by the professor's doings. The cast also includes: Olof Winnerstrand, Hugo Bjorne, Stig Olin, Olav Riego, Marta Arbin and Nils Dahlgren. ~ Nathan Southern, Rovi
News & Interviews for Hets (Frenzy) (Torment)
Critic Reviews for Hets (Frenzy) (Torment)
Audience Reviews for Hets (Frenzy) (Torment)
½
Ingmar Bergman wrote the screenplay for this film at the age of 26, and it was his first major film. In it he shows his personal disdain for traditional schooling, which invariably included learning by rote, killing all creativity, and taught at times by sadistic teachers. In the film a Latin teacher gets the nickname 'Caligula' for his cruelty, and if his interrogations of the students remind you of a Nazi SS officer, that's no accident; director Alf Sjöberg apparently modeled him after Himmler. And yet, one of the young students says 'I don't believe a person can be all evil', and in that line we get a hint of Bergman's plumbing the depths of the human soul which would take place over the following decades. Things get complicated when the student (Alf Kjellin) begins seeing a young tobacco shop clerk (Mai Zetterling), only to find she is being tormented by a creepy older man whose identity she won't divulge. The film has elements of the frustrated teenage rebel, as Kjellin argues with his parents who just don't understand, as well as elements of a film noir drama, as things get scary for Zetterling. Director Sjöberg makes use of a lot of high camera angles, as well as plays with light and shadow in some interesting ways, but as the film plays out, it begins to feel a little heavy-handed. Its message is one of triumphing over cruelty in the early part of one's life, even if events at the time appear as though they might crush one's soul or destroy one's life, but it doesn't quite have enough finesse to be very good or excellent. Still, not bad, and worth watching if you're a Bergman fan.
Antonius Block
Super Reviewer
my score might even go up. the film is emotional, with excellent explorations into powerful themes of sex, dominance, terror, and the loss of innocence. bergman's dialogue is some of his earliest, and some of the best of his career, and sjoberg made stunning direction choices. the film plays out like part hitchcock, part trouffaut, and part "the graduate". an excellent film.
Hets (Frenzy) (Torment) Quotes
There are no approved quotes yet for this movie.