The Two of Us (Le vieil homme et l'enfant)
(1967)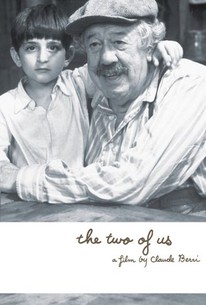 The Two of Us (Le vieil homme et l'enfant) Photos
Movie Info
Having been forced into minor parts for several years by a debilitating illness, veteran film actor Michel Simon made a triumphant return to leading roles in the charming, poignant The Two of Us (Le Vieil Homme et L'Enfant). Simon plays a likeable old soak with one significant character flaw: he is a flagrant anti-Semite. During the Nazi occupation of Paris, 8-year-old Jewish lad Alain Cohen is sent to the country, there to live with the parents of his family's Catholic friends. One of those parents is, inevitably, Simon. Taking a liking to Alain, and unaware that the boy is Jewish, Simon attempts to introduce the lad to the doctrine of anti-Semitism. The boy plays along with the old man, teasing him about his prejudices. Despite their obvious philosophical differences, Simon and Alain form a strong and affectionate bond. Director Claude Berri, whose films have often touched upon the Jewish experience in France, once more draws from his own experiences to weave a sensitive, seriocomic scenario.
Critic Reviews for The Two of Us (Le vieil homme et l'enfant)
Audience Reviews for The Two of Us (Le vieil homme et l'enfant)
½
Charming, "human" film. Michael Simon is fantastic, as is Alain Cohen who gives one of the best and most natural child performances I've ever seen. Grandpa is such an interesting and endearing character despite his obvious flaws and ignorance. But he feels like a real person with Simon's performance and the movie showing his flaws and shortcomings along with his charm. Grandpa and Claude are great together, and the movie plays with your expectations. I'm still a little surprised there wasn't a scene of Grandpa finding out Claude was Jewish. Claude Berri portrays a different aspect of occupied France that I hadn't seen before, and I am pretty blown away by it.
Matt Heiser
½
Produced twenty-five years ago, "The Two of Us" is Claude Berri's semi-autobiographical valentine to a painful, yet beautiful chapter of his childhood. Sent to live with an older Christian couple in the French countryside in 1944, a young, precocious, yet wise Jewish boy experiences a variety of events which shape his life. The special bond forged between him and "Grandpa," an anti-Semite, to whom he teaches tolerance, deeply touches the heart and makes this an important Holocaust film, well worth your attention. Performances are uniformly excellent. Subtitles are clear, although flashed a bit too rapidly for my taste -- a small price for viewing this cinematic gem.
Jerry Kane
A young Jewish boy during WWII France is sent to the countryside for safety, landing in the home of a Petain supporter. Background: I recorded this off of TCM and had never heard of it prior. My viewing was without prior bias. Observations: 1) This is so charming, a story of innocence, and a great budding friendship. 2) How Michel Simon (Grandpa) pulled off making an old-fashioned bigot into a lovable lug is amazing. Kudos. 3) The war is kept at a distance, allowing the focus to be on childhood. 4) The ending could've went two ways, and the simpler of the two was selected. Maybe in keeping with the light-hearted tone of the film. I still wonder "what if?" Why I gave it a 60%? Simon as the best Grampa character I've seen recently.
Lane B
The Two of Us (Le vieil homme et l'enfant) Quotes
There are no approved quotes yet for this movie.
Discussion Forum
Discuss The Two of Us (Le vieil homme et l'enfant) on our Movie forum!