Unfaithfully Yours
(1984)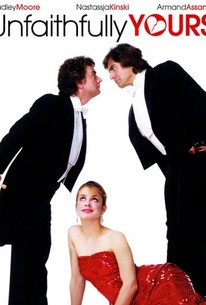 Movie Info
This remake of the 1948 Preston Sturges classic stars Dudley Moore as the symphony conductor who imagines ways to get back at the wife he believes is unfaithful to him. Moore plays Claude Eastman, the conductor of a prestigious sympathy, who suspects that his actress wife Daniella (Nastassja Kinski) is fooling around behind his back with the orchestra's handsome soloist, Maxmillian Stein (Armand Assante). The tip comes courtesy of Norman Robbins (Albert Brooks), Daniella's brother. As Claude is conducting a symphony, an elaborate plot plays out in his head -- he will murder his unfaithful wife to get revenge on her. The plot is simpler and more straightforward than the original version, in which the conductor harbored three separate elaborate fantasies.
Rating:
PG
Genre:
,
Directed By:
Written By:
In Theaters:
On DVD:
Runtime:
Studio:
20th Century Fox Film Corporation
Critic Reviews for Unfaithfully Yours
Audience Reviews for Unfaithfully Yours
½
★★1/2 (out of four) A remake of the 1948 film of the same name which starred Rex Harrison and Linda Darnell. This one emphasizes silly comedy and meager mystery over any real substance. Dudley Moore plays Claude Eastman, the conductor of a prestigious city symphony. His beautiful wife, Daniella (Nastassja Kinski), is an actress. Claude starts to believe that she is having an affair with a member of his symphony, so he plots of ways to get his revenge on her. Fun to a point, but also very forgettable. Nowhere near the earlier version. [IMG]http://img.photobucket.com/albums/v48/Zeppo1/Unfaithfullyyours_zps0681cddd.jpg[/IMG]
Steve Smith
[size=2]I'm beginning the rather lengthy task of entering into the database every film I have seen, at least those I have a decent memory of. Some may have the briefest of reviews while many will just have a number. Those films that I consider personal favorites and/or those that have some historical signficance I will add later when I have time for more lengthy reviews. [b]Triumph of the Spirit[/b], directed by Robert M. Young, stars Willem Dafoe as Salamo Arouch, a Jewish boxer imprisoned in Auschwitz during WWII. Arouch is supposed to be exterminated, but is given one chance to live, by boxing. Each bout he wins will prolong his life. Dafoe is in fine form here, but the film is merely average. Notable as the first feature filmed on location at Auschwitz. [b]Taps[/b], directed by Harold Becker, is a drama about a military school threatened to be demolished by a real estate company. The students decide to arm themselves to fight off any "invaders". Although the story is farfetched, this film is fairly entertaining due to it's strong cast. Veteran actor George C. Scott runs the academy, but the film is most notable for it's young cast which includes Sean Penn, Tom Cruise, and Timothy Hutton. [b]Tap[/b], directed by Nick Castle Jr., stars Gregory Hines as the convict son of a famous dancer. The plot is thin, but the dancing is great. Also features Sammy Davis Jr., Steve Condos, Jimmy Slyde, and Joe Morton. [b]Uncommon Valor[/b], directed by Ted Kotcheff, is an action movie about a rescue of POW's. It's terribly cliched and predictable. Stars Gene Hackman, Robert Stack, Patrick Swayze, and Fred Ward. [b]Unfaithfully Yours[/b] is the rather uninspired remake of the Preston Sturges classic. This version, directed by Howard Zieff, stars Dudley Moore, Natassja Kinski, Armand Assante and Albert Brooks. [/size]
Jennifer Allison
Unfaithfully Yours Quotes
There are no approved quotes yet for this movie.
Discussion Forum
Discuss Unfaithfully Yours on our Movie forum!