Venus in Furs (Paroxismus)
(1970)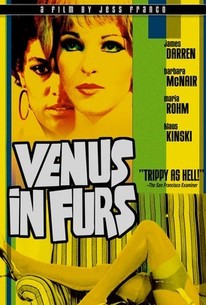 AUDIENCE SCORE
Critic Consensus: No consensus yet.
Venus in Furs (Paroxismus) Videos
Venus in Furs (Paroxismus) Photos
Movie Info
Not to be confused with Massimo Dallamano's contemporaneous treatment of the Leopold Von Sacher-Masoch classic, this unrelated (but quite entertaining) thriller from cult director Jesus Franco was originally known as Black Angel. James Darren stars as Jimmy Logan, an American jazz musician in Turkey who finds the body of a dead girl washed ashore while coming down from an LSD trip on the beach. The woman, Wanda Reed (Maria Rohm), had been murdered by the sadistic Ahmed Kortobawi (Klaus Kinski) Percival Kapp (Dennis Price), and a lesbian fashion-photographer named Olga (Margaret Lee). Some time later, Jimmy goes to work in a Rio de Janeiro nightclub and moves in with Rita (Barbara McNair), a beautiful black singer. One day, a woman named Venus enters the club, and is a dead ringer for Wanda Reed. When the murders begin, the only motive seems to be revenge from beyond the grave. This well-made shocker contains some enjoyable songs and cameo appearances by the director and Manfred Mann as jazz musicians, as well as being the best of numerous collaborations between Franco and British producer Harry Alan Towers. Prints run 90 and 86 minutes. ~ Robert Firsching, Rovi
Rating:
R
Genre:
, , , , ,
Directed By:
In Theaters:
On DVD:
Runtime:
Audience Reviews for Venus in Furs (Paroxismus)
Venus in Furs is a true classic in Jess Franco canon, but you should not expect an adaptation of Leopold von Sacher-Masoch's novel of the same name. In fact, The Velvet Underground song of the same name has more to do with the novel than Franco's film. However, given Franco's fascination with sexploitation, horror and Marquis de Sade stories, it is not surprising that he would attempt a film with the title Venus in Furs. The film features some brief moments of S&M but never in the way that the novel depicts them. Instead, Franco crafts a supernatural, surrealistic tale of sexual excess and revenge that takes the viewer both to the heights of pleasure as well as to the nadir of meaningless, ambiguity, and despair. Ultimately, Venus in Furs is a film about how we construct our identities based upon our sexuality and our relationships with others. Indeed, if Venus in Furs the film has a statement about masochism, it is that all love is masochistic because it gives the other the privileged place of defining our identities. Venus in Furs is Franco at his best and a film that should not be missed by fans of horror and exploitation cinema.
Al Miller
Poor acting, slow to plodding plot. But what really ticks me off is there was no attempt to sync the main character's valve fingering and breathing to his trumpet music. Can you believe that?
Dwayne Roberts
½
As near as I can tell the three perverts are as follows - a sadist, a lesbian, and a guy who likes feet and cunnilingus. After a night of wanton free love, Wanda ends up dead. Trumpter and Wanda lover (?) finds her washed up on the shore. Then years later she starts cock blocking Baraba McNair. Is she a ghost? Is she a succubus? It would have been awesome, and a real giallo tweest, if she had been trumpet boy dressed up on a killing spree. But no, there is a lot of slow motion and wavy special effects for dreamlike scenes. There are some great shots of Wanda in a wig and garters posing about. But her methods of killing are stupid. She provides one last night of pleasure before the men have heart attacks and the lesbo slices up her wrists in the bath. Horrible melodramatic soundtrack and stupid manferd man theme song round out this sometimes painful display of kinky sleaze.
R.John Xerxes
Discussion Forum
Discuss Venus in Furs (Paroxismus) on our Movie forum!