Warlock
(1959)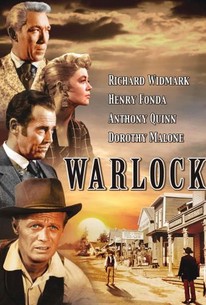 AUDIENCE SCORE
Critic Consensus: No consensus yet.
Movie Info
The town of Warlock is plagued by a gang of thugs, leading the inhabitants to hire Clay Blaisdell, a famous gunman, to act as marshal. When Blaisdell appears, he is accompanied by his friend Tom Morgan, a club-footed gambler who is unusually protective of Blaisdell's life and reputation. However, Johnny Gannon, one of the thugs who has reformed, volunteered to accept the post of official sheriff in rivalry to Blaisdell; and a woman arrives in town accusing Blaisdell and Morgan of having murdered her fiance. The stage is set for a complex set of moral and personal conflicts.
Audience Reviews for Warlock
131108: An old film but a good film. Great actors, good action and an interesting story. Hard to believe this film was done in 1959, seems much more advanced than that. I liked this movie a lot and found it very reminiscent of Appaloosa (2008). Actually, I wouldn't be surprised if Robert Parker, the writer of the novel from which Appaloosa was born, had seen this film. It's too close for plagiaristic comfort. 160604: Had bought this film after watching it off TV. Yes, I liked it that much. Upon this viewing, like it just as much, if not more. Recently saw Fonda in My Name is Nobody (1973) and my passion for his work continues. Tom Morgan's (Quinn's) outfit with the blue vest is my inspiration for Cowboy Action Shooting. Love it. And Johnny Gannon's (Widmark) horse, the Grey, top notch. Add in a young DeForest Kelly and some amazing scenery and you've got a classic. This movie appeals to my western side, from many angles, in a big way. It ain't no white hat, black hat western. I'm happy to have added Warlock to my collection.
John Redshaw
½
Refreshing to see so many quality actors in one film, a film in which none of the good guys wears a *white hat*. In that respect, this film foreshadows Eastwood's Unforgiven. With DeForest Kelley & Frank Gorsham.
Christopher Bergan
½
Adult western that deals with the threat of mob rule and a crisis of conscience for several of its characters. Henry Fonda is the nominal lead and he is fine as usual but the best performance comes from the great Richard Widmark who is tormented by a very basic struggle.
Warlock Quotes
There are no approved quotes yet for this movie.
Discussion Forum
Discuss Warlock on our Movie forum!