A Woman's Face
(1941)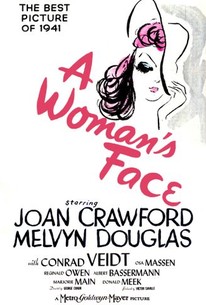 Movie Info
A remake of the Swedish film of the same name (see entry 55092), MGM's A Woman's Face was reshaped into one of Joan Crawford's best vehicles. Told in flashback from the vantage point of a murder trial, the story concerns a female criminal whose face is disfigured by a hideous scar. The plastic-surgery removal of this disfigurement has profound repercussions, both positive and tragically negative. The film's multitude of subplots converge when Conrad Veidt, Joan's lover and onetime partner in crime, is murdered. Melvyn Douglas costars as the beneficent cosmetic surgeon who becomes Joan's lover, while Osa Massen appears as Douglas' vituperative wife. Making his American screen debut in the role of Veidt's father is Albert Basserman, who spoke no English and had to learn his lines phonetically. Both A Woman's Face and its Swedish predecessor were based on Il Etait Une Fois, a play by Francis de Croiset.
Critic Reviews for A Woman's Face
All Critics (5) | Fresh (5) | Rotten (0)
Under Cukor's guidance, Crawford gives one of her least mannered performance in this noir remake of an Ingrid Bergman Swedish film about a woman whose scarred face has made her bitter.


Ozus' World Movie Reviews
Audience Reviews for A Woman's Face
½
Joan Crawford stars as a woman whose bitterness over her facial disfigurement leads her to become the leader of a group of blackmailers. When a plastic surgeon corrects this disfigurement, she becomes torn between the hope of starting a new life and a return to her dark past. From the beginning we know that Crawford is the murderer but we don't know who she murdered, or why. She again manages to make a rather hardened, bitter, and potentially murderous woman quite sympathetic. However, in this film she is the lesser of two evils, with Conrad Veidt being typecast as his usual nefararious character. There are excellent performances by Melvyn Douglas, as the plastic surgeon; Osa Massen as the scheming maid, and Donald Meek and Reginald Owen as Crawford's shady accomplices. I did not care for Albert Bassermann as the rich aged uncle or Richard Nichols who played his nephew; their demeanor was to silly and goofy. Director George Cukor creates some atmospheric moments, notably the gondola ride over the falls and the sled chase at the end. It's a very solid film, and once again the performances carry the day.
John Tandlich
½
Right after directing "The Philadelphia Story," George Cukor made the unfairly forgotten melodrama "A Woman's Face," starring Joan Crawford and a great supporting cast that included Melvyn Douglas and a demonic Conrad Veidt. It's certainly not a great film. But like the vast majority of 1940s melodramas, it's been weirdly forgotten. The first thing that hit me when it started was the unbelievably cheap sets. I don't know how Cukor tolerated cardboard sets. But I put that out of my mind and focused on the story, which was actually quite interesting. A woman (Crawford) has a disfigured face resulting from a house fire that occurred when she was a child. The social and erotic ostracism she experienced because of the disfigurement has turned her soul black. She is just one step away from becoming a serial killer. She meets her demonic equal (Veidt), and they team up to kill a five-year-old boy who stands in the way of Veidt inheriting a fortune. I kid you not; this story gets quite dark. There are other dimensions to the story that add some nice richness. If not for the cheap sets and rancid B-movie music, "A Woman's Face" could have been a major film. The sequence where Crawford is on the verge of killing the child is unforgettable. Oh, and did I say the film is set in Sweden? Sweden, of all places. But all the dialogue is in English. Odd little movie. (Just FYI -- Cukor doesn't have much name recognition these days, but he directed many famous movies, including 'My Fair Lady,' 'Adam's Rib,' 'Born Yesterday,' and the Judy Garland version of 'A Star is Born.')
William Dunmyer
Super Reviewer
dark material for cukor, better known for his comedies. he manages to draw a nicely restrained performance from joan crawford, as a woman whose fate is twisted by her disfigured face. and no one does evil like conrad veidt. i'd love to see the original swedish film with ingrid bergman but it must be nearly impossible to find. only one flixster rating!
Stella Dallas
Super Reviewer
A Woman's Face Quotes
There are no approved quotes yet for this movie.
Discussion Forum
Discuss A Woman's Face on our Movie forum!