Up!
(1976)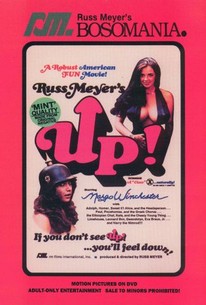 AUDIENCE SCORE
Critic Consensus: No consensus yet.
Movie Info
Nobody is what they seem to be in this dizzying Russ Meyer feature, and everyone is a suspect. The reclusive Adolf Schwartz (Edward Schaaf) pays for weird pansexual pleasures performed by an interracial group of prostitutes. Later, Schwartz (who bears more than a passing resemblance to a more infamous Adolf) is found murdered in his bath, the victim of a hungry piranha. That same morning, Margo Winchester (Raven de la Croix) is jogging on a mountain pass when she's abducted and raped by a local boy. She defends herself and ends up breaking her assailant's neck, an act that is witnessed by state trooper Homer Johnson (Monty Bane). He offers to falsify his report in return for Margo's abundant body, and she enthusiastically accepts. Margo and Homer shack up in his mountain cabin, and he gets her a job at Alice's Cafe, a small-town greasy spoon run by Alice (Janet Wood) and her husband, Paul (Robert McLane). Suddenly business is booming (thanks to Margo's seductive swagger and Mae West impressions) and the trio decide to open a nightclub. Opening night is a smash, until a drunk lumberjack goes ape after witnessing Margo's sultry dance routine. The resulting fracas ends with an axe in Homer's chest and a wild moonlit chainsaw fight. But who murdered Adolf Schwartz? That mystery is solved in not one, but three epilogues which concern the identities of Eva Braun Jr., an undercover police officer and a closet white supremacist, who all fight to the death with a pistol, a dildo, and kung-fu. The action is explained and commented upon by the buxom, perpetually nude Greek Chorus (Francesca 'Kitten' Natividad), who quotes Shakespeare and attempts to raise the story to the level of classic farce.
Audience Reviews for Up!
"Up!" is dismal, even by Russ Meyer standards. The film opens with a ridiculous S&M sequence -- featuring a farcical Nazi named "Adolf Schwartz" -- that barely seems connected to the rest of the story, then becomes a sloppy, whodunnit tale set in a small, woodsy town. There's a horny couple who runs a café, a horny policeman, a horny lumberjack, a horny girl who wanders onto the scene to stir things up...well, face it. These folks are just plain horny. Meanwhile, Kitten Natividad is inserted as a naked, jiggling narrator, verbosely orating in an alleged "Greek chorus" style. Beyond the crass sex scenes which are far too cartoonish and mechanical to be erotic, the film's biggest problem may be that much plot information is communicated through rapid-fire speech rather than action, and inept Natividad and Raven de la Croix have nowhere near the acting chops to convincingly deliver the text. No one would question the credentials of their busts, however.
Eric Broome
Super Reviewer
½
Directed by Russ Meyer who will go down as the king of 70's sleaze brings this movie centering around the murder of one Adolf Schwartz who just so happens to look like hilter and you the viewer trying to figure out who did it cause seems no one in the film really cares as there is a subplot centering around the new women in town basicly this movie is pretty weird and funny the plot doesnt matter much as with most Russ Meyer movies its a loose veil for all the nudity he stacks in them worth a watch for hardcore B movie fans
The startling first 15 minutes of this movie are the single greatest revenge on Adolf Hitler in cinema history, a brilliant example of Russ Meyer at his best, easily worthy of 5 stars. Unfortunately, what follows is not pacey or imaginative enough to qualify as vintage Meyer. Kitten Natividad's Greek Chorus, popping up occasionally to remind us of the redundant murder-mystery at the core of the plot, only emphasises the repetitiveness of it all. Though as cartoonish as ever, the violence feels more mean-spirited than usual, and the over-wordy script spoils the climax.
Up! Quotes
There are no approved quotes yet for this movie.