The Grim Reaper
(1962)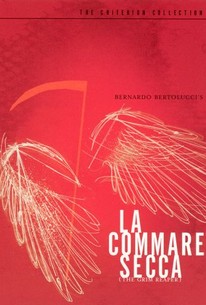 Movie Info
Potential suspects are interviewed by police when a prostitute is found murdered. Flashbacks reveal the stories of the suspects as interrogation begins to show very different recollections by those questioned. Police must sift through the various bits and pieces of vital information to solve the crime. Written and produced by Bernardo Bertolucci, this film marks his directorial debut.
Rating:
NR
Genre:
, ,
Directed By:
Written By:
In Theaters:
On DVD:
Runtime:
Studio:
Criterion Collection
Critic Reviews for The Grim Reaper
Audience Reviews for The Grim Reaper
I feel really mean today. In a park in Rome a prostitute turns up dead and the police have no idea who did it. They begin investigating the crime and interrogate a large number of witnesses; of which, each tell a different part of the story in a way the detectives can hopefully piece together the night's events. "I brought you into this world and I'll take you out of it." Bernerdo Bertolucci, director of Little Buddha, Stealing Beauty, Besieged, Me and You, The Dreamers, 1900, Luna, and Tragedy of a Ridiculous Man, delivers Grim Reaper. The storyline for this picture is fairly mediocre and just okay. The dialogue was entertaining and the character interactions were just okay and the cast delivers believable performances. "He's an unknown soldier." This recently aired on Turner Classic Movies (TCM) during the Halloween season so I had to DVR it. This was very mediocre and a bit bland and uneventful. Overall, I recommend skipping this, even for fans of the genre. "You're implicated in the murder of a prostitute." Grade: C-
Kevin Robbins
This movie reminds me so much of Roshomon, but slower and more boring. There are some good scenes, but for the most part, it's not a great movie. It's just okay.
In "La Commare Secca," a prostitute(Wanda Rocci) has been murdered in a park. The police have cast their net far and wide for leads while the disembodied voice of law and order interviews possible witnesses and suspects who might have seen anything. Making matters more difficult is the interviewees not exactly being forthright. Starting off is Luciano(Francesco Ruiu) who has gotten a job recommendation from a couple of priests before joining up with his pals Nino(Giancarlo De Rosa) and Sindaco(Vincenzo Ciccora), as they attempt to rob distracted couples in the park. Bostelli(Alfredo Leggi) is a former criminal who has apparently gone straight but still cheats on his wife Esperia(Gabriella Giorgelli) with whom he runs a protection racket. With its unique story structure and directed by Bernardo Bertolucci, "La Commare Secca" is a not entirely successful movie, nor is it entirely without merit. It manages to paint a vivid tableau on a particular day about characters on the move who cannot find any stability which can mean a legitimate job. On the other hand, all the pieces of the puzzle do not exactly fit together as the mystery is resolved a little too perfunctorily.
The Grim Reaper Quotes
There are no approved quotes yet for this movie.
Discussion Forum
Discuss The Grim Reaper on our Movie forum!