Don Juan
(1926)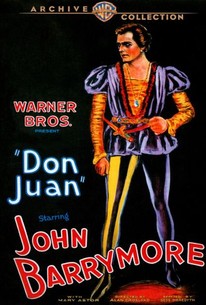 AUDIENCE SCORE
Critic Consensus: No consensus yet.
Movie Info
Historically important as the first film to carry a Vitaphone sound track (consisting of music and sound effects, but no dialogue) Don Juan is a first-rate production by any standards, and would have been just as good with or without musical accompaniment. John Barrymore plays the legendary lover Don Juan, raised by his cynical father (also played by Barrymore) to "love 'em and leave 'em", and to never trust any woman. All of this changes when he meets the beautiful Adriana Della Varnese (Mary Astor). When it seems that Adriana has betrayed him in favor of a wealthy marriage to the lecherous Count Donati (Montague Love), Don Juan renounces her and returns to his rakish ways. What he doesn't know is that Adriana is a political pawn, who has been forced into an alliance with Donati by the calculating Borgias (Estelle Taylor and Noah Beery Sr.). By the time Don Juan finds out that his true love is still true, he has been tossed in prison for killing Donati in a spectacular duel. He breaks out, rescues Adriana from the Borgias' torture chamber, and escapes with his beloved to the safety of Spain. The plot is, of course, more complicated than that, but so fascinating is John Barrymore's performance that it's difficult to concentrate on anything else. The film's highlights include the out-sized duel between Barrymore and Montagu Love, capped by Barrymore's spectacular leap from the top of a huge staircase, and the torture chamber sequences, wherein Barrymore sneaks past the Borgia guards by assuming the facial characteristics of fiendish torturer Gustav von Seyfertitz--and this without makeup. "In the know" film historians may read a lot more into the Barrymore/Mary Astor love scenes than is readily apparent, forearmed as they are with the knowledge that John and Mary had once been passionate lovers offscreen. Scenarist Bess Meredyth used the Lord Byron poem Don Juan as a mere stepping stone for this imaginative, exquisitely filmed romantic adventure.
Rating:
NR
Genre:
, , ,
Directed By:
Written By:
In Theaters:
On DVD:
Runtime:
Studio:
Warner Brothers
Critic Reviews for Don Juan
Audience Reviews for Don Juan
½
Cool film, it has nothing to do with the usual Don Juan (no statue coming out of hell, no killing of the father, no vengeance, and the Borgias as guest stars, ho, and a happy ending). The film has its moments some of the girls are cute, the action scenes are a bit dated but still lot of fun, there are a few love triangle moments that are tasty. Unfortunately, it is waaay too long, many scenes are totally useless, the plot starts well but soon loses any form of interest and many things are too over the top to be even fun. The only thing that really makes the film worth it is John Barrymore himself. True, he jumps a bit too much for his own good but he is often wonderful. In particular, at one point he takes the place of a sorcerer and manages somehow to change his own face so much that I could hardly recognize him. After a while he goes back to his normal face, no make up, just the magic of the actor. Paradoxically this type of joyful overacting is somewhat fresh when compared to the constant stone-faced acting we have nowadays.
Ben Gui
Discussion Forum
Discuss Don Juan on our Movie forum!