102 Minutes That Changed America
(2008)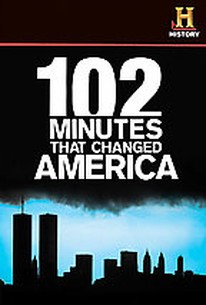 AUDIENCE SCORE
Critic Consensus: No consensus yet.
Critic Reviews for 102 Minutes That Changed America
There are no critic reviews yet for 102 Minutes That Changed America. Keep checking Rotten Tomatoes for updates!
Audience Reviews for 102 Minutes That Changed America
Without a doubt the hardest documentary that I have ever watched, 102 Minutes That Changed America is a point of view real time film on the events that occurred on September 11th 2001. The documentary uses no narration whatsoever instead it relies on amateur footage from that day to recount the events. The way that the documentary is done is remarkable and it's a film that chronicles an important part in history. I remember vividly when it happened, I was sixteen years old at the time, and I saw this live, and it's something that you cannot forget, it stayed sheered into my memory like so many others. This documentary shows us the perspective from various sources and what is presented here is a raw attempt at capturing the events, and what is here is something quite surreal. This is a very hard documentary to review because I really don't know how to phrase what I see here. Revisiting the events of that day is always hard, and with 102 Minutes That Changed America we have a document that tells this important event. As a documentary, this is one of the finest genre films that I have seen, and being comprised of rare, never seen footage, it's an unforgettable film that shows the attacks, the horror, panic, anger and shock of the New Yorkers. I watched it all on TV live, and to this day, it still feels fresh in my mind. The only word that can come to mind in describing the film is chaos. What is filmed here is terrifying, and with the fact that it only relies on footage from people who happened to be there and with no narration, the film is engaging, captivating and you simply cannot tear yourself away from what you're watching because what you are seeing here is something that shaped what was to follow in the years to come. After the events of this day, the world would never be the same, and the film is superbly made, and is a flawless documentary that is terrifying, poignant and unforgettable.
Sometimes, All You Need Is What Was There There are a lot of documentaries out there about the events of September 11, 2001. (I usually write dates day first, but there are some dates that are best known month first, and I follow American usage for that.) Even leaving aside the crazy, stupid Truther crap, I have no intention of reviewing all of them. Few of them have anything really new to say. Heck, arguably none of them do. Once we got the commission's report, there wasn't much left to learn about the events of that terrible, terrible day. We know the physics, the intelligence, the engineering, the politics, the inter-agency squabbling--we know what happened and why. There's only so much point in going over it again. I'll admit that I still watch a lot of the documentaries, but I also admit that I've started looking away during certain parts. I just don't need to see the planes hit the Towers or the Towers fall, over and over again. What, then, is different enough about this version that makes me willing to review it? Well, I'll admit--it's partially that I haven't watched anything else to review today. I slept late and then wen out and did things. But there's also something unusual about the format. This movie is a real-time documentary. There is no narration. No soundtrack. Just the events of one hundred two minutes, not even two hours, playing out as they happened. Much of the footage is from the cameras of New Yorkers who just happened to have cameras that day. Most of the audio is from either random people near the cameras or else, chillingly, 911 operators and so forth telling the people in the buildings that there was really nothing they could do for them. I don't think all the operators were doing their job very well, but I suspect it was also extremely difficult to do it at all, that day. We watch firefighters go to what we know will be their deaths, and we watch others choose to jump to theirs. That last is probably the hardest for me. Hardest for the people doing the filming, too, based on a lot of what they're saying in the background of these shots. I absolutely believe it's the choice I would have made, but at the same time, it was pretty awful for the people watching it. Especially the people down at the plaza in front of the buildings, I should think. Imagine knowing that you'd survived and then seeing the bodies of those who never even had a chance. I've had friends insist that those images should never be shown, but to me, it almost feels like honouring the bravery of those who made one last choice, one last impossible choice. Rather than wait to die, they chose. I really do admire that. I'm not sure that means I want to watch it, even eleven years later on DVD in the privacy of my own home, but I do think it was a better decision than merely sitting there and waiting to burn--which I believe is one of the most horrible ways to die. We have more and more access to the thoughts of the average person. I mean, imagine the Hindenburg disaster, right? We had a single guy with a movie camera there, by pure luck. Pearl Harbor? Photographs, but not film. There's the Zapruder footage, and all those other people who happened to be on Dealey Plaza at the time, but think about it. At something like the Panamerican Exposition (in Buffalo!) today, half the audience would be filming their opportunity to meet William McKinley. And indeed, we do, I believe, have footage of McKinley from earlier that day, as movie cameras did exist, but nothing from his fatal meet-and-greet at the Temple of Music. I would suggest that, along with everything else, September 11 was the first major event in the world where we have vast amounts of footage filmed by ordinary people who just happened to be there with cameras. It's become more and more common, just as earthquake stories since I was a kid are often accompanied on the news by footage from security cameras. If you had asked me on September 10, 2001, what one of the oddest parts about my generation was, I would have told you that I believed we did not have a unifying moment. My mother can tell you where she was for Kennedy, the other Kennedy, Martin Luther King, Apollo 11. Most of my generation was in school for [i]Challenger[/i], and while some of us got to watch it live on TV anyway, most of us did not. I was really beginning to believe that Kurt Cobain's death was kind of it for us, and I wasn't completely okay with that. What I'd forgotten was that Apollo 11 is almost unique as a unifying moment. If you look at that list, three of them are deaths. My grandparents knew where they where when they heard about Pearl Harbor and the death of FDR. We are more often united in tragedy than in joy. I suppose that's at least in part because what makes us joyful is rather more likely to vary than what makes us sad. Everyone agrees that the deaths of innocents (assuming they accept them as truly innocent) is sad, but there were even people who weren't pleased at Apollo.
Edith Nelson
½
This documentary of September 11th, 2001 is more relatable than any (and there are many) other 9/11 shows out there. Filmed on handheld camcorders by amateurs, the chronologically accurate portrayal of America's saddest morning is engrossing. Occasionally the show will have audio of professional newsmen and women talking on air about the events, but the most chilling audio comes from the people holding the camera and those around them. Real feelings of shock, confusion, and sadness are expressed uncensored and very raw. The scenes show New Yorkers trying over and over again to reach loved ones on cell phones, check physically to see if everyone they work with is around them, and in a jolting sense of reality, firefighters head into the World Trade Center minutes before their doom is upon them. In a sick sense of curiosity, bystanders can only watch as people jump from the burning buildings to their death as the streets are littered with a mocking ticker-tape parade. Extremely emotional and accurate, 102 Minutes That Changed America is a gut-wrenching revisit in this graphically accurate historical film.
Porast Lorkall
102 Minutes That Changed America Quotes
There are no approved quotes yet for this movie.
Discussion Forum
Discuss 102 Minutes That Changed America on our Movie forum!