Ash Wednesday
(1973)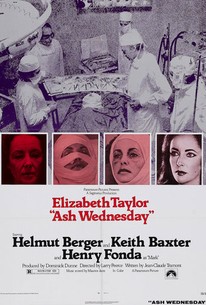 Movie Info
A woman undergoes a surgeon's scalpel in a last-ditch attempt to win back her husband in this drama. Barbara Sawyer (Elizabeth Taylor) has been married to her husband, Mark (Henry Fonda), for 30 years, and she's afraid the spark has gone out of their relationship. Barbara is convinced the problem is her appearance -- the years have taken a heavy toll on her, and her haggard, saggy appearance is a far cry from the beauty she possessed in her youth. Determined to save her marriage, Barbara checks into a clinic in Switzerland for extensive plastic surgery, and arranges to meet Mark at a nearby ski lodge once she's recovered. After having her face, breasts, and bottom lifted, Barbara leaves the hospital looking as beautiful as Elizabeth Taylor, and as she waits for Mark to arrive in Switzerland, she allows herself to be seduced by Erich (Helmut Berger), a handsome young playboy, to prove to herself she has regained her allure. However, her new face and figure isn't enough to save her marriage when Mark informs her he's decided to leave her for another woman. Ash Wednesday features detailed footage of actual plastic surgical procedures, some of which were far too bloody for the comfort of most audiences.
Critic Reviews for Ash Wednesday
Audience Reviews for Ash Wednesday
WRONG MOVIE POSTER! This is an Edward Burns movie. Pretty good too.
Sean Gillespie
Super Reviewer
Ash Wednesday Quotes
There are no approved quotes yet for this movie.