Boy Meets Girl (1984)
(1984)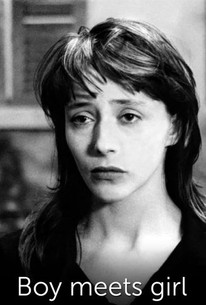 Boy Meets Girl (1984) Videos
Boy Meets Girl (1984) Photos
Movie Info
A depressed aspiring filmmaker falls in love with a suicidal young woman in this off-beat French drama, the second feature from director Leos Carax. Both have been recently dumped by their lovers and neither is coping very well. They meet via an apartment intercom system. Later the filmmaker sees her by the Seine. They finally meet in person at an elegant party and begin a long, strange conversation over a kitchen table. During the course of their talking, the two find themselves unable to resist their mutual neediness and this leads them to tragedy. ~ Sandra Brennan, Rovi
Rating:
R
Genre:
, ,
Directed By:
Written By:
In Theaters:
On DVD:
Runtime:
Studio:
Critic Reviews for Boy Meets Girl (1984)
All Critics (9) | Top Critics (3) | Fresh (9) | Rotten (0) | DVD (1)
The director's slight uncertainty creates a fascinating tension that works in Boy Meets Girl's favor. You empathize with the characters' struggles even as they are both kept at a critical distance.


Ecstatic cinema and ecstatic living join together in a pressurized promise of glory and misery, a flameout waiting to happen-and to be filmed.

New York Times
Top Critic
Audience Reviews for Boy Meets Girl (1984)
½
For an avant-garde film, "Boy Meets Girl," Leos Carax' debut release, is surprisingly tender. This is my first viewing of any Carax film, and I was surprised and delighted by the emotional quality of "Boy Meets Girl." Avant-garde artists typically are all about ideas. But Carax, at least in his early days, was all about feelings. "Boy Meets Girl" introduces us to an array of characters, all feeling wounded in some way. Mostly it is due to the loss of love. The two lead characters, young intelligent misfits played by Denis Lavant and Mireille Perrier, have just been dumped by their significant others. They walk around Paris shell-shocked until they meet each other at a party. The scene where they start getting to know each other is so loving and compassionate. Carax has a deep heart. It seems he spent his college years not so much studying philosophy as studying people. He's got a PhD in the human yearning for love. But it's not a great film. It's charming but rather light. It reminded me most of the films of Jim Jarmusch. By a very nice coincidence, Jarmusch and Carax both released their debut films in 1984. (JJ's was "Stranger Than Paradise.") They both embody the downbeat, laconic chic of the New Wave era. But whereas Jarmusch's characters almost never emote, Carax' characters frequently gush. It's hard to believe that I've never heard of Carax until this year. I don't know how his work slipped by me all these years. Surprisingly, he never developed much of a reputation in the US. I discovered him by way of the trailer for his brand-new film, "Holy Motors," which showed at Cannes this year but has not been released in the US yet. (Thank you, Vite, for sending me the trailer.) While I wouldn't say I was mesmerized by "Boy Meets Girl," I was impressed -- pleased enough to want to see all his films. There haven't been too many. He basically retired in 1999 after "Pola X." So "Holy Motors" represents his big return to filmmaking. I'm eager to see his entire body of work.
William Dunmyer
Super Reviewer
I had never heard of Leos Carax until his Merde segment in last years Tokyo, and his was easily the stand-out the film's three stories. It wasn't my favorite of the shorts, but it was the most unique, and the most iconic. "The Lovers on the Bridge" was the first of his full length features I've seen, a virtuoso romantic film that uses image and music to communicate an exuberant young love that overflows into the poetic. Though he's classified as a neo-nauvelle vogue, his films owe as much to silent cinema as the 60's experimental narratives. His movies are closer to Jean Vigo in "L'atlante", Jean Cocteau, and Guy Maddin, than Godard and Truffaut. In Boy Meets Girl Carax's 1984 debut he uses black and white and the heavy reliance on visual representation to display emotional states. He combines the exaggerated worlds of Maddin, but based in a reality that never seems quite stable like Cocteau, but by virtue of its expressions it becomes more accessible, emotional, and engaging like Vigo's movies. The story of Boy Meets Girl is simple, and similar to Carax's two following films which comprise this "Young lovers" trilogy. A boy named Alex played by Denis Lavant (who plays a character named Alex in Carax's next two movies), has just been dumped by his girlfriend who has fallen in love with his best friend. In the first scene he nearly kills his friend on a boardwalk but stops short of murder. He walks around reminded of her by sounds of his neighbors having sex, and daydreams of his girlfriend and best friend getting intimate. He steals records for her and leaves them at his friend's apartment, but avoids contacting either of them directly. He wanders around and finds his way to a party, where he meets a suicidal young woman, and the film becomes part "Breathless" and part "Limelight". Later he is advised by an old man with sign language to "speak up for yourself...young people today It's like they forgot how to talk." The old man gives an anecdote about working in the days of silent film, and how an actor timid off stage became a confident "lion" when in front of the camera. Heres where the movie tips its hand, but the overt reference to silent film is a crucial scene, since it overlaps the style of the film (silent and expressionist), with the content (a lovelorn young man trying to work up the courage to say and do the things he really wants to). Though Alex is pensive at first and a torrent of romantic words tumbling out of him by the end, he is the shy actor who becomes a lion thanks to the films magnification of his inward feelings which aren't easy to nail down from moment to moment, aside from a desire to fall in love. There is a scene in the film where Alex retreats from the party into a room where the guests have stashed their children and babies, all crying in a chorus that fills that room, until he turns on a tape of a children's show making them fall silent. Unexpectedly due a glitch the TV ends up playing a secret bathroom camera which reveals the hostess sobbing to herself into her wig about someone she misses. Even as Carax is self-reflexive and self deprecating of the very kind of angst ridden coming of age tale he is trying to tell (the room full of whining infants), he's mature enough to see through the initial irony to the lovelorn in everything the film crosses. Even the rich old, bell of the ball has a brother she misses. In another scene an ex astronaut stares at the moon he once walked on in his youth while sipping a cocktail in silence. Though indebted to films before talkies, Carax is a master of music, knowing when to pipe in the Dead Kennedy's "Holiday in Cambodia", or an early David Bowie song, the sounds of a man playing piano, or of a girl softly humming. I learned a little background info that explains some of the director's personal idiosyncrasies, and expands the personal portrait abstractly on display in this and all the three films of his trilogy. Details like how he was having a relationship with his lead actress in each of his films at the time of filming, or that he went through periods of being silent during his youth and adolescence (when he watched allot of silent films), or the fact that Carax's real name is Alex. In all three of his films Alex loves a woman involved with another man, in one film they fall in love, in another Alex dies, and in another its left ambiguous. In Boy Meets Girl, when someone gets their heart broken we see blood pour from their shirt, when a couple kiss on the sidewalk they spin 360 degrees like a planet consigned to its private orbitl, when Alex enters a party an feels out of place, its because the most interesting people in the world really are in attendance; like the famous author who can't speak because of a bullet lodged in his brain, or the miss universe of 1950 standing just across from the astronaut. This film is the missing link between Jean Piere Jenuet, Michel Gondry, and Wes Anderson, whose stylistic flourishes and quirky tales of whimsy, all have a parallel with different visuals, musical, and emotional cues in these Carax movies. Contrary to the flixter description Alex is not a would-be filmmaker, he is not a would-be anything. Prior to his breakup he was living off his girlfriends unemployment, and content to stay in bed with her all day and just talk. He does say I'd like to make films, but right now I just think of the titles of films I'd like to make, but he also adds, I never achieved my dreams, because I just trying to have the same dreams again. He is youthful aimlessness personified, in all its confusion and thwarted romantic desire, which would by itself be nothing spectacular, but treated by Carax it, becomes cinematic poetry as warm, inviting, and enthralling as any I've seen. Ive had recourring dream for years now where I meet an interesting girl, we talk and at some point we end up holding hands or having a breif kiss, but at some point in the dream the girl and I are always seperated by a crowd, bieng on a seperate bus going in opposite directions, or just vanishing like Alice's white rabbit down some empty labyrinth like hallway. Every line of dialogue, every piece of music and every effect and edit in this movie resonated with me on some emotional level, some I lack words to articulate. There are many tales of a boy meeting a girl, but rather than just explore the banal details of any particular event this movie captures the ecstatic truth of adolescent passion and disappointment. The other movies you want to watch can wait. See this first. If I were to make films, I would want them to be like this, in fact I wish all films were like this, where the ephemeral becomes larger than life, and life itself becomes a dream.
Joseph Sylvers
[center][font=Times New Roman][size=4][img]http://tclab.kaist.ac.kr/~smpark/movie/Posters/boy_meets_girl.jpg[/img][/size][/font][/center] [font=Times New Roman][size=4]Summary (from IMDB): Leos Carax's feature debut follows the relationship of an aspiring filmmaker (Denis Lavant), who has just been left by his lover and a suicidal young woman (Mireille Perrier), who is also reeling from a failed romance.[/size][/font] [center][img]http://www.dvdoutsider.co.uk/dvd/pix/b/bo/boymeetsgirl3.jpg[/img][/center] [font=Times New Roman][size=4]What could have been. Boy Meets Girl had great potential to be a unique disfunctional relationship film, but it was too busy being [/size][/font][font=Times New Roman][size=4][color=white]interrupted by superfluous scenes to ever capture a decent flow. The first half an hour and the last 15 minutes are great, but a lot of the random scenes in the middle felt more like something you'd see in Eraserhead (but less weird) - the ever-so-slight surrealism didn't do much for me.[/color][/size][/font]
Chris Weseloh
Discussion Forum
Discuss Boy Meets Girl (1984) on our Movie forum!